Acclaimed time-loop exploration adventure Outer Wilds is heading to Steam in June
As Epic Games Store exclusivity ends.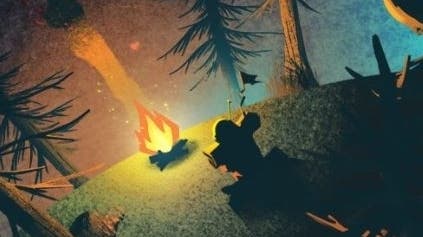 Developer Mobius Digital's wonderful sandbox space exploration adventure Outer Wilds (which was named Eurogamer's favourite game of 2019, don't you know) will be waving goodbye to Epic Games Store exclusivity and hello to Steam on 18th June.
Outer Wilds, if you've not yet had the pleasure, casts players as intrepid adventurers itching to explore the gorgeously compact solar system spinning endlessly above their heads. It's a dreamily realised, deliciously off-kilter place, with its striking, often surreal planets gradually evolving in unexpected ways as time progresses in-game.
Thanks to violent celestial calamity, however, the entire solar system constantly resets every 20 minutes, sending players all the way back to the start, albeit with a headful of crucial new knowledge collected on their previous adventures to the stars. The idea, then, is to slowly pick apart the cosmos' secrets, using previous learnings to be in the right place at the right time, and perhaps even avert disaster when the dying sun goes supernova next time around.
Eurogamer's Christian Donlan was smitten enough with Outer Wilds' intergalactic delights to award it a Recommended badge in his review last year, and its charms ultimately won over the rest of the team, sufficiently so that it was crowned our favourite game of 2019.
"Outer Wilds is astonishing," enthused Donlan once more in his end-of-year write-up, "in an era in which you'd think that games would be running out of ways to astonish people.
"It gives you a clockwork solar system filled with planets whose evocative names are matched by dynamic, tempestuous, mysterious surfaces. It gives you addled, oxbow interiors filled with secrets, with a trail to follow. It gives you physics and memory and logic and sweetness and, in amidst the emptiness, a sense of camaraderie, of belonging to something folksy and pine-scented and cobbled-together with craft and will."
Those planning to venture forth and uncover Outer Wilds' ancient mysteries and long-forgotten secrets through Steam on 18th June can add it to their wishlist now.