343's master plan for Halo 5: Guardians
"We can no longer say we're new to this franchise."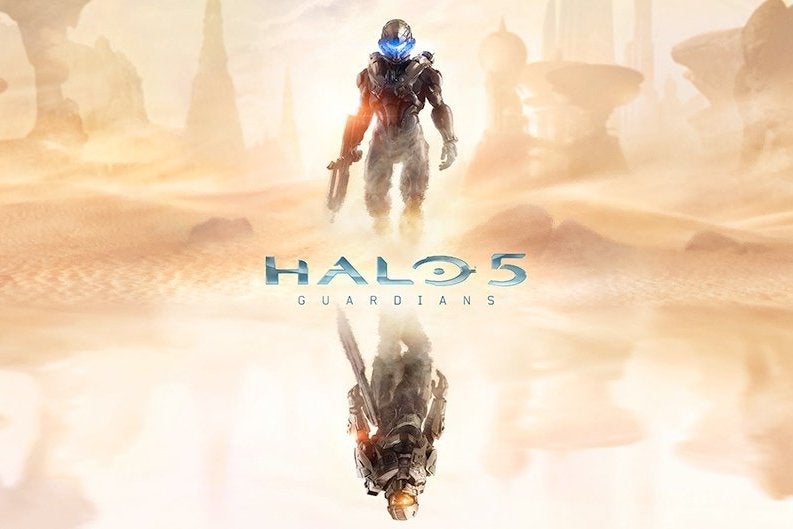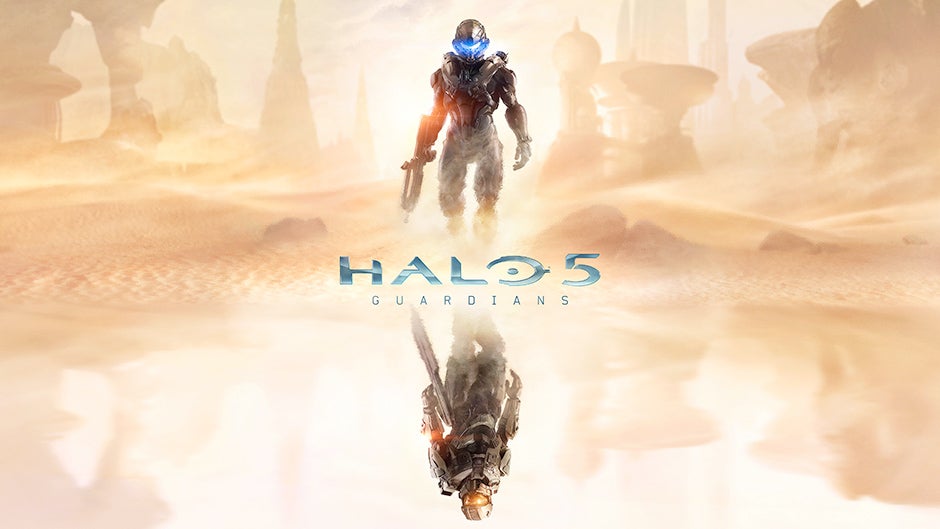 At E3 last week, Microsoft executives and developers wouldn't talk much about Halo 5: Guardians, but we did glean some information about 343's approach to the upcoming Xbox One exclusive first-person shooter.
343 studio boss Bonnie Ross told Eurogamer that Halo 5: Guardians features a new Spartan character, called Agent Locke. He plays a "key role" in the game, she said. But what role? Halo Nightfall, the digital series produced by Ridley Scott, will tell his origin story. Expect the first episode to come out with Halo: The Master Chief Collection on 11th November 2014, with subsequent episodes released in the weeks after the game's launch.
The idea, Ross said, is to provide information on Agent Locke "so when you end up with Halo 5: Guardians you have an idea of the background of this new character". Locke was shown to the public for the first time when 343 released the image, above, for Halo 5: Guardians, which shows the character reflected by Master Chief himself.
And what of Master Chief? Ross said Master Chief is still the star of the show, and the star of Halo 5, despite Locke's prominence.
"He is human, he's always been human, but at the end of Halo 4 he really is reflecting on who he is and why he exists," Ross said.
"That was very deliberate because the story we want to tell on Xbox One really is an important part and the main part of his hero's journey. It's more about what he's searching for versus what the UNSC is asking him to do.
"[Halo 5 is] a continuation of Master Chief's story."
Nightfall won't be the only part of The Master Chief Collection that drops Halo 5 hints. In the same way the terminals in Halo 1: Combat Evolved Anniversary Edition unlocked a motion comic that teased story details for Halo 4 from the perspective of pesky floating sphere Guilty Spark, the terminals in Halo 2 Anniversary tease the story of Halo 5, but this time from the perspective of The Arbiter - Master Chief's Covenant Sangheili friend. (For more on Halo 2 Anniversary Collection check out Eurogamer's Halo: The Master Chief Collection preview).
In one cinematic Eurogamer saw at E3, The Arbiter says: "How well do you know your friend, human? And what would you call me if you learned the truth of what I have done?"
The Master Chief Collection E3 trailer, below, shows one of the most dramatic moments from the Halo 2 campaign, before revealing that what were actually seeing is a holographic projection watched by Agent Locke. The dynamic between Locke and Master Chief will play out in Halo 5: Guardians, 343 said.
343 has also added new prologue and epilogue cinematics to the entire Master Chief Collection. "The trailer you saw at E3 hinted at a new character and a mystery that's going on," Ross teased. "The prologue and epilogue will bound that and tie you up and leave you on the doorstep of Halo 5."
343's goal is to align the Halo TV show, which currently carries the working title Halo The Television Series, with Halo 5: Guardians. This live action TV show is being produced by Hollywood legend Steven Spielberg and is separate from the digital, episodic series Scott is producing. The idea is Halo The Television Series will launch roughly around the same time as Halo 5: Guardians, in the autumn of 2015.
Ross gave the impression that Halo 5 and Spielberg's Halo TV show will be linked in more ways than one.
"It does give you a more interesting entertainment experience," Ross said. "At Comic-Con we'll talk a lot more about what we're doing with TV and what we can do with it on Xbox One, and how we're viewing it. It's a lot more seamless going from game to different experiences.
"One thing we'll talk more about at Comic-Con is what we can do with linear on Xbox One that we couldn't do on 360. It's super exciting for us to think about a digital series and television.
"Halo 5 is a lot about his future, but as you'll see through all of the linear pieces we've woven through, his past is key to his future."
"It's more about what he's searching for versus what the UNSC is asking him to do."

343 boss Bonnie Ross
As for Halo 5: Guardians, it runs on a engine "purpose built for Xbox One", Ross said. We'll get our first hands on the new engine with the Halo 5: Guardians multiplayer beta, which begins on 27th December 2014 and runs for three weeks to 15th January 2015. Beta access comes through Halo: The Master Chief Collection.
The beta focuses on arena, Ross said. "Later this fall we'll talk about our full offering. Very deliberately we're doing it a year out to give us the development time to make sure we can take the feedback. It will be an interactive three week beta, meaning we will have multiple different ways for people playing to give us feedback so we can hone the multiplayer experience."
For Halo franchise development director Frank O'Connor, the Halo 5 beta is all about getting feedback from existing Halo fans. "We'll be adding a lot of new things in Halo 5, but we want to talk to classic Halo fans about what makes a great Halo experience, and we think we're going to get a lot of good data from them," he told Eurogamer.
"And it's a real beta. Sometimes a beta is maybe a good way to test performance on your network. We'll be looking at every single aspect of how people play this, and we have a lot of time to actually take meaningful feedback.
"We're trying to mine it for all the data we can get. Not just network data or performance data. It's like, how are people playing? How are they adapting to the new features? How are they dealing with new weapons? There will be a huge amount of data for us to look at."
"We can no longer say we're new to this franchise, right?"

Halo franchise development director Frank O'Connor
Halo 5 is 343's second Halo game, having taken over development of the franchise from its creator, Bungie. Halo 4, released in 2012 for the Xbox 360, was its first effort and its first game. Halo 5 arrives three years later.
"We can no longer say we're new to this franchise, right?" O'Connor said.
"We've been working on it for years now. So our goal with it, fundamentally, is to make the best experience we can possibly make. Some of that means making it better with some of the learnings we've had over the years."
O'Connor also stressed Halo's history with pushing the hardware it has launched on, suggesting 343 would strive to repeat the trick with Halo 5 on Xbox One.
"With Halo 1 it was dual stick controls and streaming from hard-drive," he said. "With Halo 2 it was finally taking advantage of that ethernet port. We didn't just drive the matchmaking that people are used to now in console gaming. We probably helped push broadband adoption in the States among a certain demographic, period. I know a lot of people signed up for broadband internet just for Halo 2.
"So we want to make sure that since we're on a new platform, we're pushing it in interesting ways. That's one of our biggest philosophies."
Ultimately, though, 343's goal with Halo 5: Guardians is to make a Halo game for Halo fans - a goal O'Connor described as challenging.
"That's not as easy as it sounds. Halo is different to different people. Some people think of Halo as this purely co-op experience. Some people only care about the story. Multiplayer guys don't agree with each other on anything, period. DMR is the worst and best weapon.
"So, knowing you have such a disparate set of audiences as a subset of your overall audience and trying to figure out the best way to cater to them without compromising everyone else's experience - that's a hell of a balancing act. And it's one we'll always struggle with. I know our audience is changing."
Halo 5: Guardians is the culmination of what franchise steward 343 and its leader Bonnie Ross call Halo The Journey, a two year plan that begins with Halo: The Master Chief Collection on Xbox One. Included are a raft of Halo-related properties, TV shows, comics, merchandise and, most importantly of all, video games.
These days Halo is an expanded universe, bigger than ever before and with more characters than ever before. For example, with Halo 4 343 introduced a new enemy class to the series, the Prometheans, which are linked to the mysterious Forerunners.
"We decided to do a little bit more detail on the Forerunners," Ross explained. "We wanted to bring a new enemy class into Halo, so we spent a lot more time mapping out exactly what that culture. It does play a big role in Halo 5 and beyond.
"We also had a tendency to kill all of our characters besides Master Chief. We are not Game of Thrones, and we actually want to make sure going forward we have a larger cast of characters with which to tell stories.
"Stories need to stand alone, whether they're books, in the game, different animation and live action. The game has to stand alone and each of the stories has to stand alone. They are better together, but we're never making fans do the homework to make sure they understand all of these."