Xbox Games with Gold for May includes Vanquish, Metal Gear Solid 5
Plus Streets of Rage and more.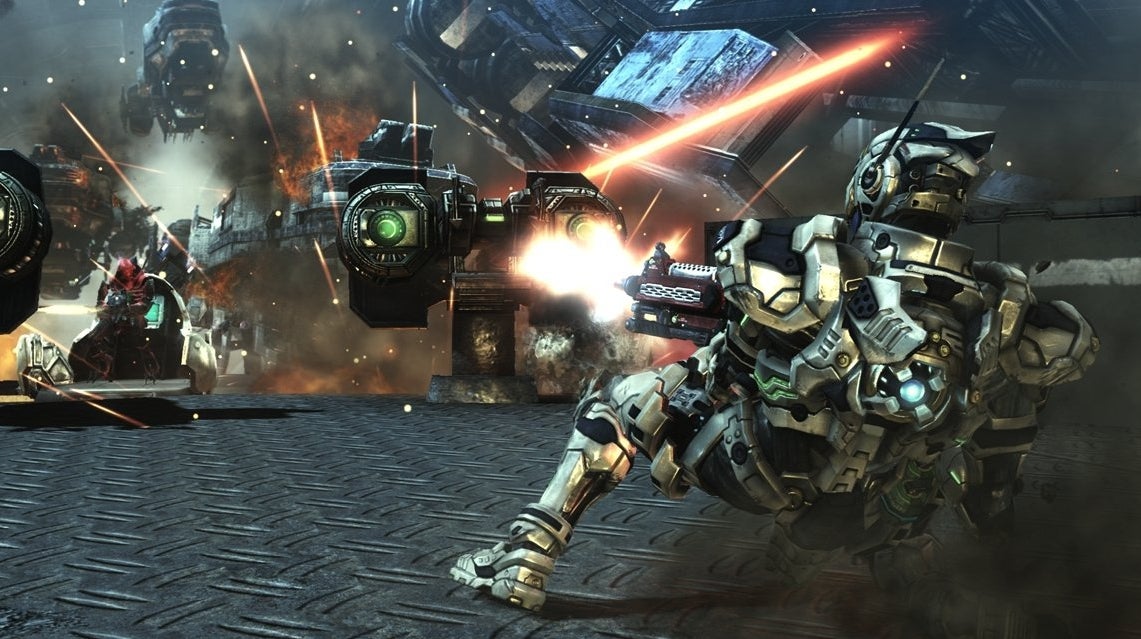 Microsoft has unveiled its Xbox Games with Gold line-up for May, and it's a good 'un, headlined by Metal Gear Solid 5: The Phantom Pain, and Platinum's stupendous Vanquish.
Metal Gear Solid 5: The Phantom Pain is available from May 16th to June 15th on Xbox One, and really needs no introduction; Hideo Kojima's final Metal Gear Solid game is a rich, generous, and phenomenally well-designed slab of free-form open world stealthing, positively dizzying in its gleeful flexibility.
Eurogamer contributor Rich Stanton took on reviewing duties for The Phantom Pain, describing it as "the kind of game where every hand-polished element slots together into a head-spinningly ambitious structure and they combine into something you can only call visionary".
"The Phantom Pain is not just a high watermark for the series," said Rich, "It is the greatest ever stealth game by a distance, a true masterclass from a designer and team who bow out at the very peak of their creative powers. This is one of the greatest blockbusters our medium has ever had as well as the perfect ending to one of gaming's great series - and the end of one incredible, extended journey from Hideo Kojima. For decades to come, players will see the legacy of Metal Gear Solid, and have no choice but to salute."
No less spectacular is Platinum Games' classic third-person shooter and slippery knee sim, Vanquish, designed by Resident Evil maestro Shinji Mikami. This comes to Xbox 360 and Xbox One (via backward-compatibility) from May 16th to May 31st.
Simon Parkin took on Eurogamer reviewing duties for this one, concluding that, "If games are adolescent power fantasies that give us the chance to be cooler, faster, more athletic, more precise and less like the lumbering morons we really are, then in Vanquish they reach the full extent of this ambition."
Despite strong critical acclaim, Vanquish's brilliance, in something of a theme for Platinum, went largely unrewarded at launch, failing to capture the games buying public's imagination. With Microsoft dolloping it straight into laps across the world in May, however, it's the perfect opportunity to rectify any previous Vanquish-based wrongs if you've not yet had the pleasure.
Elsewhere in May's Xbox Games with Gold, the long-awaited Super Mega Baseball 2 is available from May 1st to May 31st for Xbox One, and Sega Vintage Collection: Streets of Rage is available for Xbox One and Xbox 360 from May 1st to May 15th.