Wii U price cut announced
UPDATE: Zelda Wii U bundle details announced for Europe.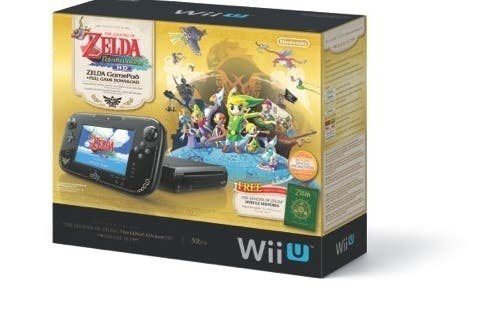 UPDATE: Nintendo has announced UK details for its Legend of Zelda: Wind Waker HD Wii U bundle.
The game and console will launch together on 4th October. GAME is listing the bundle for £249.99. You'll also be able to buy Zelda separately with a limited edition Ganondorf figurine too from that date.
Another new bundle will be available with Lego City Undercover, again priced £249.99 at GAME.
Nintendo has also dated mini-game collection Wii Party U. It'll come bundled with a Wii Remote Plus in White or Black flavours and be available on 25th October.
ORIGINAL STORY: Nintendo has announced a Wii U price cut for North America.
Amid terrible sales for the console, Nintendo has slashed the price of the Wii U Deluxe version by $50 to $299.99, effective from 20th September.
That's in the US. Nintendo of Europe doesn't set the retail price of hardware on these shores, where the console is already heavily discounted by most shops.
"The new price makes Wii U an even greater value, particularly with the strong lineup of Wii U games available and on the way for the system in 2013," Nintendo said. "These include Pikmin 3, The Wonderful 101, EarthBound, New Super Luigi U, The Legend of Zelda: The Wind Waker HD, Super Mario 3D World and Donkey Kong Country: Tropical Freeze."
Meanwhile, Nintendo announced a new limited-edition Wii U bundle featuring The Legend of Zelda: The Wind Waker HD for release on 20th September a $299.99.
The bundle includes a black Deluxe Wii U console, a GamePad controller with gold lettering, a gold Hyrule crest and gold symbols from the game, a download code for the digital version of Hyrule Historia, and a code that can be used to download The Legend of Zelda: The Wind Waker HD from the Nintendo eShop immediately at no additional cost.
The digital version of the game also launches on 20th September. The packaged version launches on 4th October with gold-foil packaging. In the US, GameStop has the exclusive on a Ganondorf figuring bundled with the game for $55.
The Wii U price cut is welcome. Nintendo shifted just 160,000 Wii U consoles worldwide - 90,000 in Japan, 60,000 in North America and 10,000 in Europe and Australia, during its last financial quarter. During that period a paltry 1.03 million Wii U games were sold. Wii U has now sold an abysmal 3.61 million units worldwide.
Despite this Nintendo is sticking to its ambitious sales projections for the financial year, which include an expected nine million Wii U console sales.