The worst player in the Premier League is the best player in FIFA 18
Meet Tiémoué Bakayoko.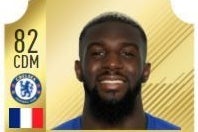 Speak to any Chelsea fan and they'll tell you Tiémoué Bakayoko is the worst player in the team.

Bakayoko, who Chelsea signed from Monaco last summer for just shy of £40m, was supposed to form a devastating midfield partnership with fellow French destroyer N'Golo Kanté, and effectively replace Nemanja Matić, who was sold to Manchester United.

https://twitter.com/brfootball/status/886250565453434881

It's fair to say things haven't gone well for Bakayoko so far.

Game after game - and it really is game after game, because Bakayoko continues to play for some reason - Bakayoko's ineptitude shines through, with misplaced passes, terrible shots and cringe-worthy tackles leaving Chelsea fans scratching their heads.
Bakayoko's poor form came to a head on Monday night when, clearly low on confidence, he had his worst game for the club so far. I say worst game, but in truth it was but a third of a game because Bakayoko got sent off in the first half for two yellow cards, each given for depressingly-bad challenges. All the while, poor Bakayoko couldn't find a fellow teammate with a pass, failed to track back and gave the ball away time and time again. He was so bad, you felt his sending off was some kind of mercy killing on the part of the referee.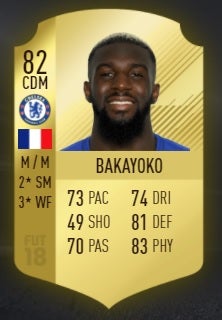 All of this is in stark contrast to Bakayoko as a FIFA player. When FIFA 18 came out in 2017, fans quickly noticed how strong the player was in the game. While Bakayoko's overall rating of 82 is by no means a standout, his stats, which are based on his wonderful season at Monaco, combine to form perhaps the most useful midfielder in the entire game.
Bakayoko is first on the team sheet of many a FIFA Ultimate Team because of his all round effectiveness. This is a game that favours the tactic of chasing the ball with one defensive midfielder while the computer controls the positions of your other players in the hope you can make a tackle. Here, Bakayoko is at his best, with impressive aggression, stamina and strength stats.
He's also taller than many other defensive midfielders in his rating zone, so he'll win goal kicks. And he has this relentless habit of intercepting the ball pretty much all of the time. But the best thing about Bakayoko as a FIFA player is he's just, well, annoying to play against. Video game Bakayoko is the perfect balance of height, strength, pace and positioning.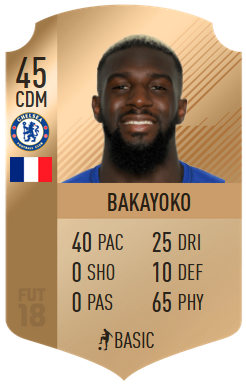 As a Chelsea and FIFA fan, I've watched Bakayoko's car crash of a first season at the club with a wry smile because of the stark difference between the real like footballer and the virtual. As Chelsea fans declare Bakayoko the worst player in the Premier League and the worst signing in recent memory, Bakayoko sits on top of the world as FIFA's most useful card. You see him in so many FUT teams, his proliferation throughout the mode fuelled by his effectiveness and his cost. Bakayoko is seen as the best value CDM in the game. He's certainly cheaper than, but just as good as, the popular Kanté.
It's also, well, funny to see the FIFA community react to Bakayoko's performances. After the Watford debacle, one redditor photoshopped Bakayoko's card to make him the worst player in the game. Some commentators suggested the card would probably still be good, somehow, because it's Bakayoko.
EA releases improved versions of FUT cards throughout the season as real life players do well. There are Team of the Week cards, Ones to Watch cards, Path to Glory cards, even Halloween-themed Ultimate Scream cards, all introduced into FUT packs throughout the life of the game. EA does not downgrade players on a dynamic basis, however. Perhaps Tiémoué Bakayoko should be a special case.