Vin Diesel is not only starring in Ark 2, he's helping produce it
Pitch that.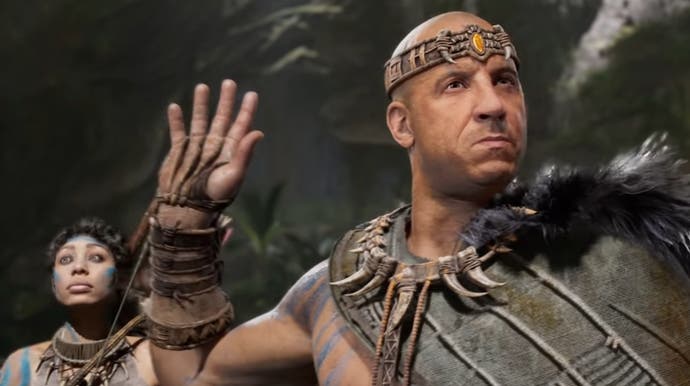 Like many of you, I'm sure, last Thursday night I was a little bewildered to see Vin Diesel pop up mid-Game Awards and start smashing his way through a dinosaur-filled jungle. Eventually, the trailer was revealed to be Ark 2, with Vin Diesel starring as character Santiago in the sequel to the original multiplayer game. But his involvement doesn't end there, as it turns out Vin Diesel is a serious Ark fan: and he's even helping produce the game.
A press release from Studio Wildcard explains Vin Diesel has joined the team as an executive producer, not only for Ark 2, but for the animated series also shown at the Game Awards. He's earned himself the title "president of creative convergence" - whatever that may be - but there's a reason why Vin Diesel is so heavily involved with Ark, as he's a huge fan of Ark: Survival Evolved. In fact, he's apparently put "thousands of hours" into Ark, according to Studio Wildcard CEO Doug Kennedy. "He understands the game intimately and is providing direct feedback to the development process. With [Thursday] night's reveal of the Ark sequel and animated TV series, Vin will be involved with each as we look to expand the Ark franchise even further, now and into the future."
Well, with that many hours sunk into the game, I think that qualifies Vin Diesel to get fully involved with Ark. Also, it's Vin Diesel.
As for release dates, both Ark 2 and the animated series are set to arrive in 2022. Beyond Vin Diesel's involvement, the animated series has a stellar cast in its own right, with voice acting from David Tennant, Gerard Butler, Elliot Page, Russell Crowe and more. Now that cast has me curious.