Valve announces Steam Deck, a £349 handheld PC
"The most powerful, full-featured gaming handheld in the world."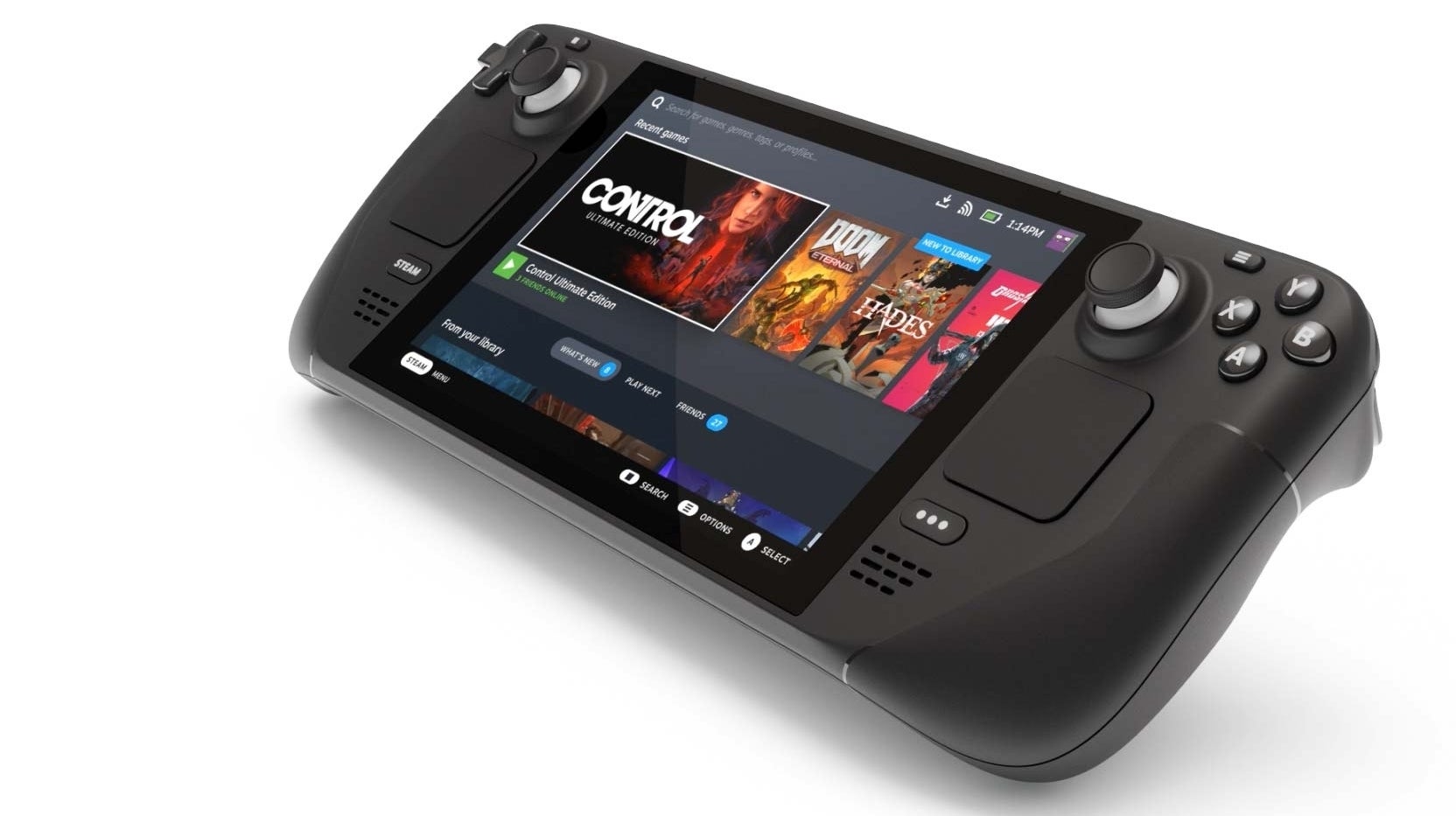 Valve has revealed Steam Deck, its handheld PC shaped like a Nintendo Switch with a 7" screen.
The device will ship this December priced at £349/$399 with 64GB storage, with increased storage options available for £459/$529 (250GB SSD) and £569/$649 (512GB SSD).
Steam Deck features two analogue sticks, two touch pads, analogue triggers, ABXY face buttons, four rear buttons, and gyro controls.
It has a custom Zen 2 AMD processor, USB-C port and microSD slot for storage expansion. Valve says Steam Deck is specced "comparable to a gaming laptop with the ability to run the latest AAA games".
Valve is promoting the device alongside videos of it running games such as Star Wars Jedi: Fallen Order and Control, and of course, your Steam library will be instantly accessible.
But as a PC, not a closed ecosystem, Valve says you can also install and use other PC software. "Browse the web, watch streaming video, do your normal productivity stuff, install some other game stores, whatever," Valve notes.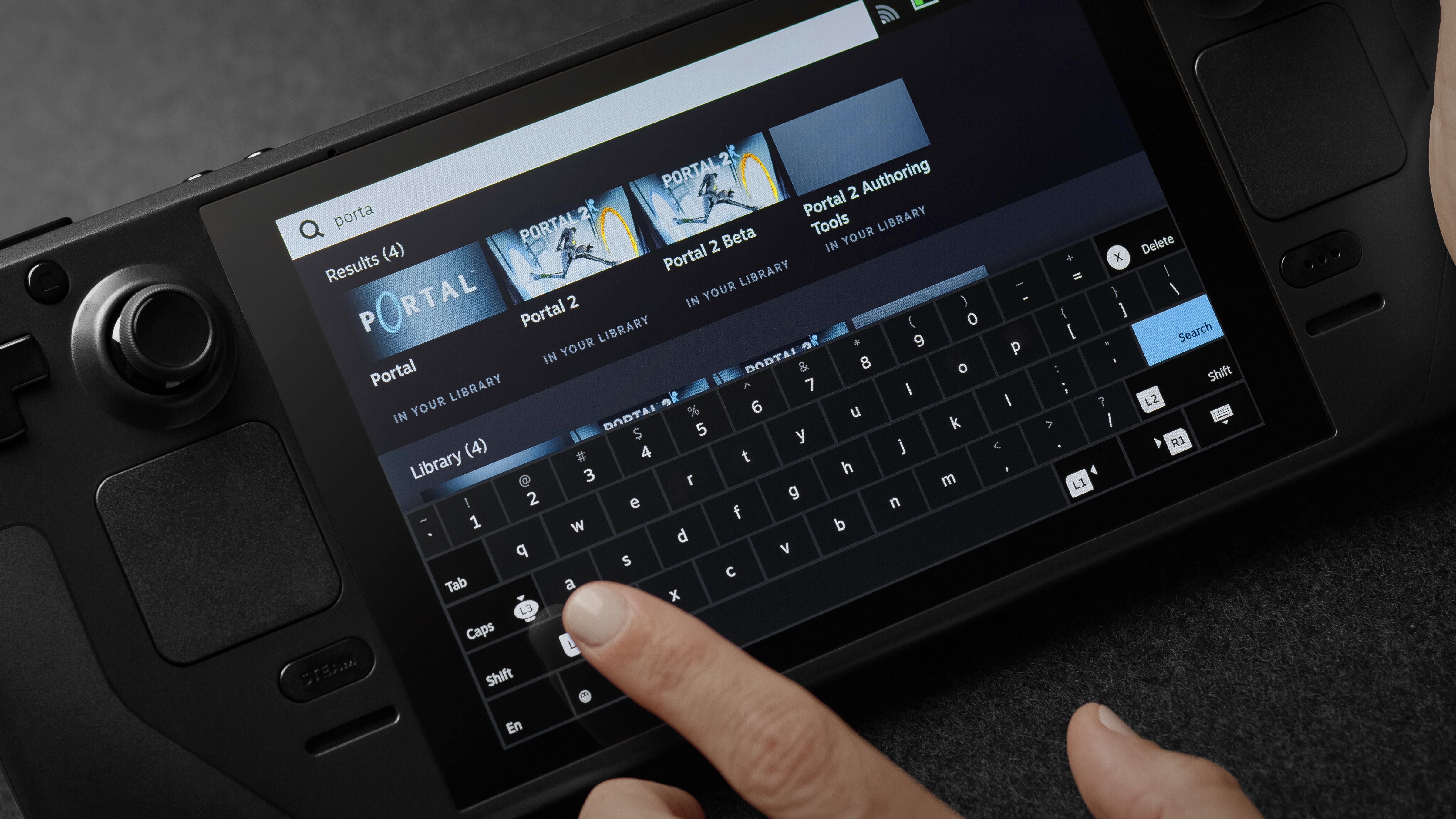 For comparison, Steam Deck's 7" touchscreen is the same size as the upcoming Switch OLED, and larger than the base Switch's 6.2" screen.
A dock will be available separately to connect the Steam Deck to external displays, wired networking, USB peripherals and power.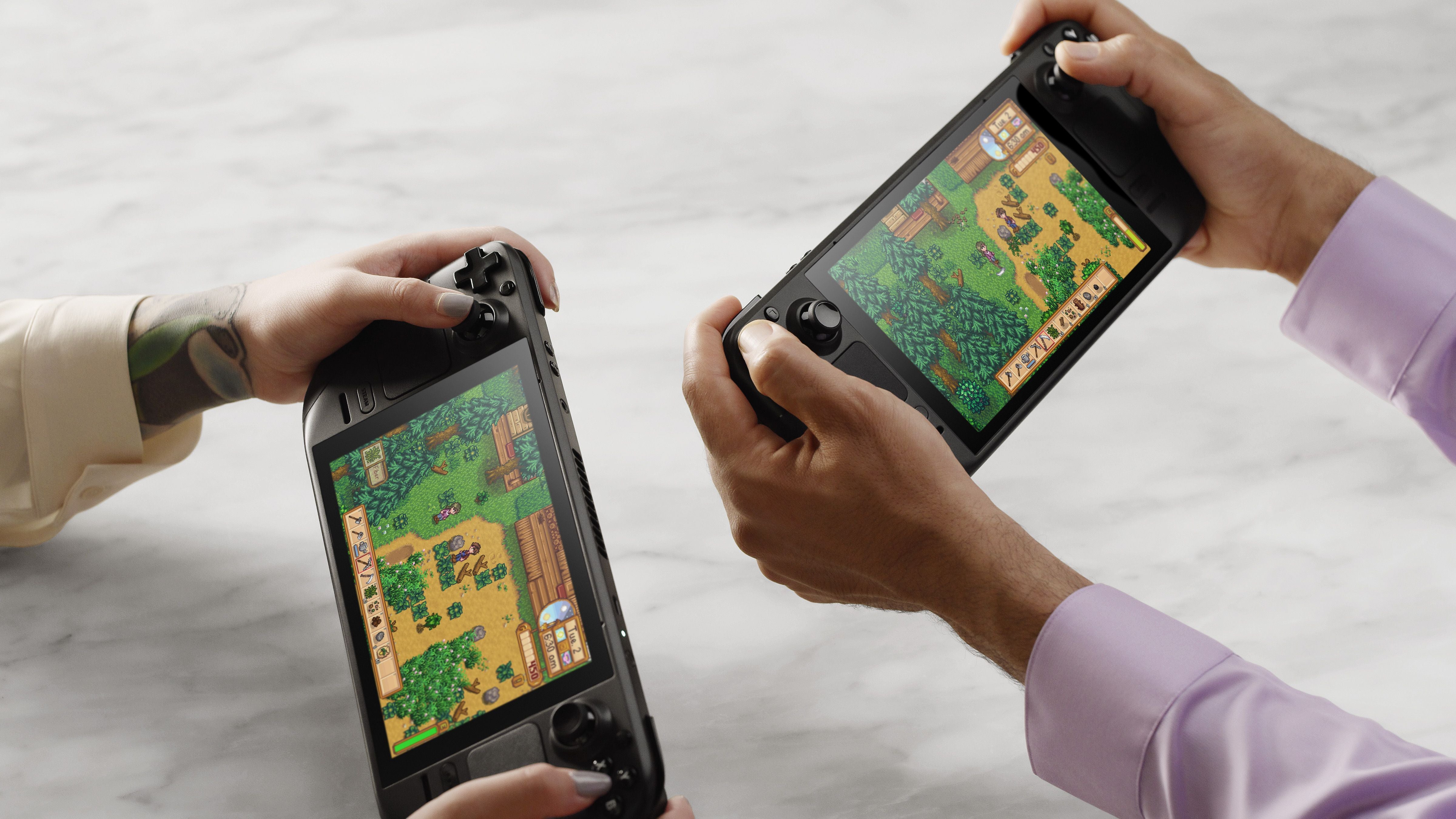 Paid reservations to buy a Steam Deck will begin tomorrow, 16th July, limited to one per customer for anyone with a Steam account that has made a purchase prior to June 2021. Take that scalpers!
For everyone else, paid reservations open up 48 hours later on Sunday, 18th July. Reservations are open to anyone in the US, Canada, EU and UK, and the reservation fee is deducted from your overall purchase price and will be refunded if you cancel.
We first heard of Steam Deck earlier this year, in a report which detailed a "Switch-like" handheld gaming PC for launch later in 2021. Back then it was called "Steam Pal", and sadly not Gabe Boy.
"We think Steam Deck gives people another way to play the games they love on a high-performance device at a great price," Valve boss Gabe Newell said today. "As a gamer, this is a product I've always wanted. And as a game developer, it's the mobile device I've always wanted for our partners."
We've listed its specs in full below.
Compute
Processor: AMD APU
CPU: Zen 2 4c/8t, 2.4-3.5GHz (up to 448 GFlops FP32)
GPU: 8 RDNA 2 CUs, 1.0-1.6GHz (up to 1.6 TFlops FP32)
APU power: 4-15W
RAM: 16 GB LPDDR5 RAM (5500 MT/s)
Storage: 64 GB eMMC (PCIe Gen 2 x1) or 256 GB NVMe SSD (PCIe Gen 3 x4) or 512 GB high-speed NVMe SSD (PCIe Gen 3 x4)
All models include high-speed microSD card slot
Controls and input
Gamepad controls: A B X Y buttons, D-pad, L & R analogue triggers, L & R bumpers, View & Menu buttons, 4 x assignable grip buttons
Thumbsticks: 2 x full-size analogue sticks with capacitive touch
Haptics: HD haptics
Trackpads: 2 x 32.5mm square trackpads with haptic feedback (55 percent better latency compared to Steam Controller, pressure-sensitivity for configurable click strength)
Gyro: 6-Axis IMU
Display
Resolution: 1280 x 800px (16:10 aspect ratio)
Type: Optically bonded LCD for enhanced readability
Display size: 7" diagonal
Brightness: 400 nits typical
Refresh rate: 60Hz
Touch enabled: Yes
Sensors: Ambient light sensor
Connectivity
Bluetooth: Bluetooth 5.0 (support for controllers, accessories and audio)
Wi-Fi: Dual-band Wi-Fi radio, 2.4GHz and 5GHz, 2 x 2 MIMO, IEEE 802.11a/b/g/n/ac
Audio
Channels: Stereo with embedded DSP for an immersive listening experience
Microphones: Dual microphone array
Headphone / mic jack: 3.5mm stereo headphone / headset jack
Digital: Multichannel audio via DisplayPort over USB-C, standard USB-C, or Bluetooth 5.0
Power
Input: 45W USB Type-C PD3.0 power supply
Battery: 40Whr battery. 2 - 8 hours of gameplay
Expansion
microSD: UHS-I supports SD, SDXC and SDHC
External connectivity for controllers & displays: USB-C with DisplayPort 1.4 Alt-mode support; up to 8K @60Hz or 4K @120Hz, USB 3.2 Gen 2
Size and weight
Size: 298mm x 117mm x 49mm
Weight: Approx. 669 grams
Software
Operating System: SteamOS 3.0 (Arch-based)
Desktop: KDE Plasma
Official dock (sold separately)
Peripherals: 1 x USB-A 3.1 Port, 2 x USB-A 2.0 Ports
Networking: Ethernet
External displays: DisplayPort 1.4, HDMI 2.0
Power input: USB-C Power Delivery passthrough input
Deck connection: 6" USB-C captive cable with low profile 90° connector
Size: 117mm x 29mm x 50.5mm
Weight: Approx. 120 grams