Ultimate Marvel vs. Capcom 3 and Dead Rising 2: Off the Record "faring well"
Capcom income falls nearly 50%.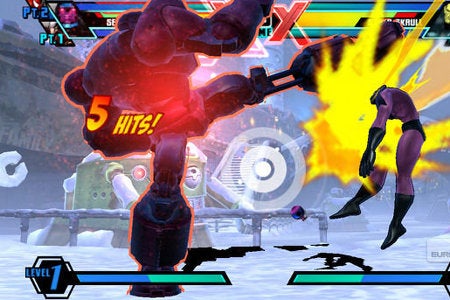 Ultimate Marvel vs. Capcom 3 and Dead Rising 2: Off the Record are "faring well", Capcom said today.
The Japanese company said sales of both games were strongest outside Japan. UMVC3 has sold 600,000 units and DR2:OTR has sold 500,000 units.
Nintendo 3DS game Monster Hunter 3(Tri) G sold over one million copies and achieved its projected sales. The game is currently on sale in Japan only. Will it launch here?
Other games released in the period include Resident Evil: The Mercenaries 3D on 3DS and Monster Hunter Freedom 3 HD Ver for PlayStation 3.
Japan-only PC and Xbox 360 online game Monster Hunter Frontier Online "showed steady growth supported by its stable popularity," Capcom said.
Capcom discussed its games as it reported financial figures for the nine month period ending 31st December 2011.
Sales decreased 29 per cent, and operating income declined 47.2 per cent year-on-year.
Capcom blamed this decrease on a "surge during the same term previous year caused by the mass release of major consumer online game titles".
Capcom's forecast for the fiscal year ending 31st March 2012 remains unchanged and expects to make a profit.
It hopes to sell two million copies each of Resident Evil: Operation Racoon City and Street Fighter x Tekken.