UFC Undisputed 3 Preview
Third Strikeforce.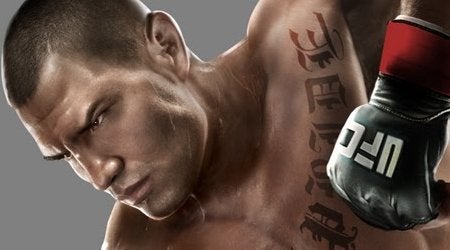 For the longest time, I knew virtually nothing about the UFC. I'd dabbled with the Ultimate Fighting Championship game on the Dreamcast, and even watched some classic Royce Gracie fights on a borrowed cassette tape, but I was always far more interested in arcade-style fighting games where you could hurl fireballs and juggle opponents ten feet in the air. But after watching an MMA demonstration at an Undisputed event back in 2009, I began to watch and appreciate mixed martial arts as both a technical sport and a freeform style of hand-to-hand combat.
This started with The Ultimate Fighter, an ongoing reality television series that plays out like a cross between Big Brother and Ong-Bak, before moving on to the main UFC events themselves. It's here that I got to see Jon Jones relinquish the Light Heavyweight Champion belt from Mauricio Rua with some savage ground and pound; Cain Velasquez school Brock Lesnar with a round one TKO; and Anderson Silva, after being dominated by the relentless wrestling ability of Chael Sonnen for four rounds straight, lock-in an epic triangle armbar submission to secure his seventh title defence as Middleweight Champion.
It was then, like a music aficionado who can't stop listening to a new band and then takes the plunge to see them on tour, that I finally got the opportunity to see a main event live. This was thanks to an invitation to watch UFC 138 at the Birmingham LG Arena, where I got to see Che Mills earn Knockout of the Night with a thundering knee strike, and Terry Etim achieve his fourth Submission of the Night award with a guillotine choke in the 17th second of the first round.
It was a fight card that was lacking in champions and top contenders, but as a firsthand dose of MMA mastery, it was an intense experience to hear the kicks resonate across the packed stadium, and to see the crowd erupt whenever a British born fighter went on the offensive. It also highlighted the strengths of the Undisputed series as an MMA fighter, and the progress that Neven Dravinski and his team have made in making the third game even more comprehensive.
My hands-on with UFC Undisputed 3 was limited to the Exhibition mode, but featured an unrestricted select screen with the new Bantamweight and Featherweight classes. This included Jose Aldo and Dominick Cruz, both former WEC fighters and the current champions of their respective weight divisions, as well as an overall character count that now exceeds 150 fighters with new faces like the currently undefeated Travis Browne and former Strikeforce Middleweight Champion Jake Shields. There's also the option to go head-to-identical-head in a mirror match for the first time.
But the most significant switch-up from Undisputed 2010 is the inclusion of the PRIDE roster, which can be selected as an alternative to the UFC. PRIDE was a Japanese MMA league that was bought out by Zuffa, the parent company which owns the UFC, in 2007, and with famous names like Mark Coleman, Wanderlei Silva, Cro Cop and Dan Henderson - all represented in their PRIDE fighting prime - the scope for staging dream matches and reliving legendary fights is more flexible than ever. There's also the opportunity to land some brutal knees on the ground.
While the UFC currently enforces a list of over 30 fouls, PRIDE never managed much more than ten - with head stomping on a grounded opponent actively encouraged. The Octagon cage is replaced by a more conventional boxing ring and a first round that lasts ten minutes, before stretching to two further five minute rounds should the match go the distance. But with the ability to knee your opponent in the face from the north-south position, the end result is often a TKO or full-blown knockout.
This ties into what Dravinski described as a new theme of "finishing the fight", as while a closely fought match in Undisputed 2010 had a tendency to go to the judges score cards, the striking and takedowns in Undisputed 3 feel much weightier - with a reinforced sense of consequence when you sway and counter at the opportune moment. There's even a new submission system that ditches the "shine" shenanigans in favour of a new mini-game - one where both players steer a bar around an onscreen hexagon in a frantic attempt to smother while on the attack and evade while on the defence.
It's a fairly abstract concept to describe in words, yet functions similarly to the submission mechanic from EA Sports MMA. Other tweaks to the fighting system include ground sways that let you avoid punches when fully mounted, new cage positions that let you "wall walk" to a standing position, quick strikes that let you throw repeated jabs which can interrupt your opponent and new leg kick TKOs that pay homage to kickboxing specialists like the now retired Atoni Hardonk. You can now even check leg kicks to cause damage to a kick happy opponent.
Overall, the control system feels much the same as the last game, with high and low modifiers for the stand-up game, and major and minor transitions for the ground game. But to give beginners an easier time, there's now a less demanding Amateur control scheme in addition to the standard Pro. This works by replacing the quarter and half circle motions with up and down flicks of the right analogue stick, but to make sure this isn't abused by more capable players, transitions with the Amateur system have a higher chance of being reversed.
You also have move control over the kind of fight you wish to stage. So if you'd rather play a match that removes flash knockouts, or with characters who share identical attributes in terms of physique and fighting ability, then the new Competition and Equalised Stats rules will let you go to war on a completely even footing. And for those who crave more realism in terms of damage and stamina, the new Simulation mode will force you to fight with more restraint.
All these subtle revisions and additions give Undisputed 3 a sense of progressive evolution that's not too dissimilar to Fight Night and FIFA. Undisputed 2009 laid down an impressive foundation, Undisputed 2010 ironed out some of the kinks, and now, Undisputed 3 is refining the rules of engagement to make this not only a more comprehensive interpretation of MMA combat, but also the most accessible and technical rewarding Undisputed yet.
That said, we still don't know how Undisputed 3 will improve upon its predecessor's career mode and online functionality, but based on this evidence, Yuke's is working hard to make the proverbial third strike the ultimate MMA gaming experience. And while it remains to be seen whether EA Sports will deliver a follow-up to its own MMA challenger, it seems that for now, at least, the UFC's flagship fighter can wear its untouchable accolade with pride.