Trackmania Turbo review
You've got boost power.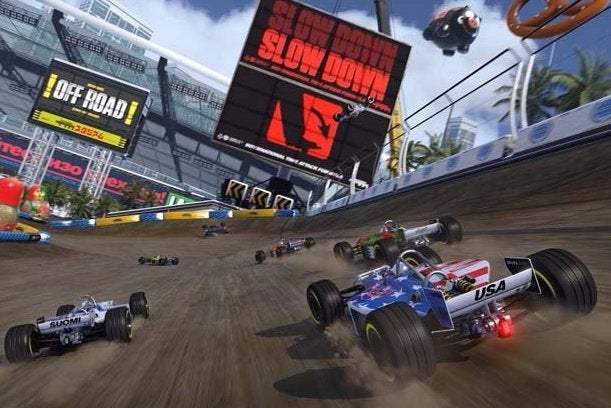 Nadeo makes a concerted effort for console, resulting in a focussed, fantastic Trackmania.
What's the most hardcore PC driving game? You might be surprised by one very credible answer. You can spend hours perfecting set-ups on iRacing, or erecting three screens and a fully pneumatic D-Box rig for a tricked-out Project Cars experience, but nothing compares to the steel-edged challenge of Trackmania, a driving game with its own cruel rhythm: race, reset and repeat until you've spent whole angry hours in the pursuit of shaving a few tenths of a second off a 20 second run.
If you're on console, you may have been blind to Nadeo's long-running series, which has struggled to find a foothold outside the PC. Trackmania Turbo feels like a concerted effort to change all that; this is a slick, generous and welcoming addition to Nadeo's series, at once an introduction, compendium and handsome buffing of everything that's gone before. Don't worry, though. It's still got teeth.
The fundamentals remain untouched. This is a time attack game, where it's you against a quickfire series of short, torturous circuits that don't appear to be on first name terms with the laws of physics. The campaign that's at the heart of Trackmania Turbo offers up some 200 tracks on which to earn gold, silver or bronze medals, depending on the time you set. Many of them are over in a handful of seconds. Many more of them, while short, will take serious time and effort to conquer.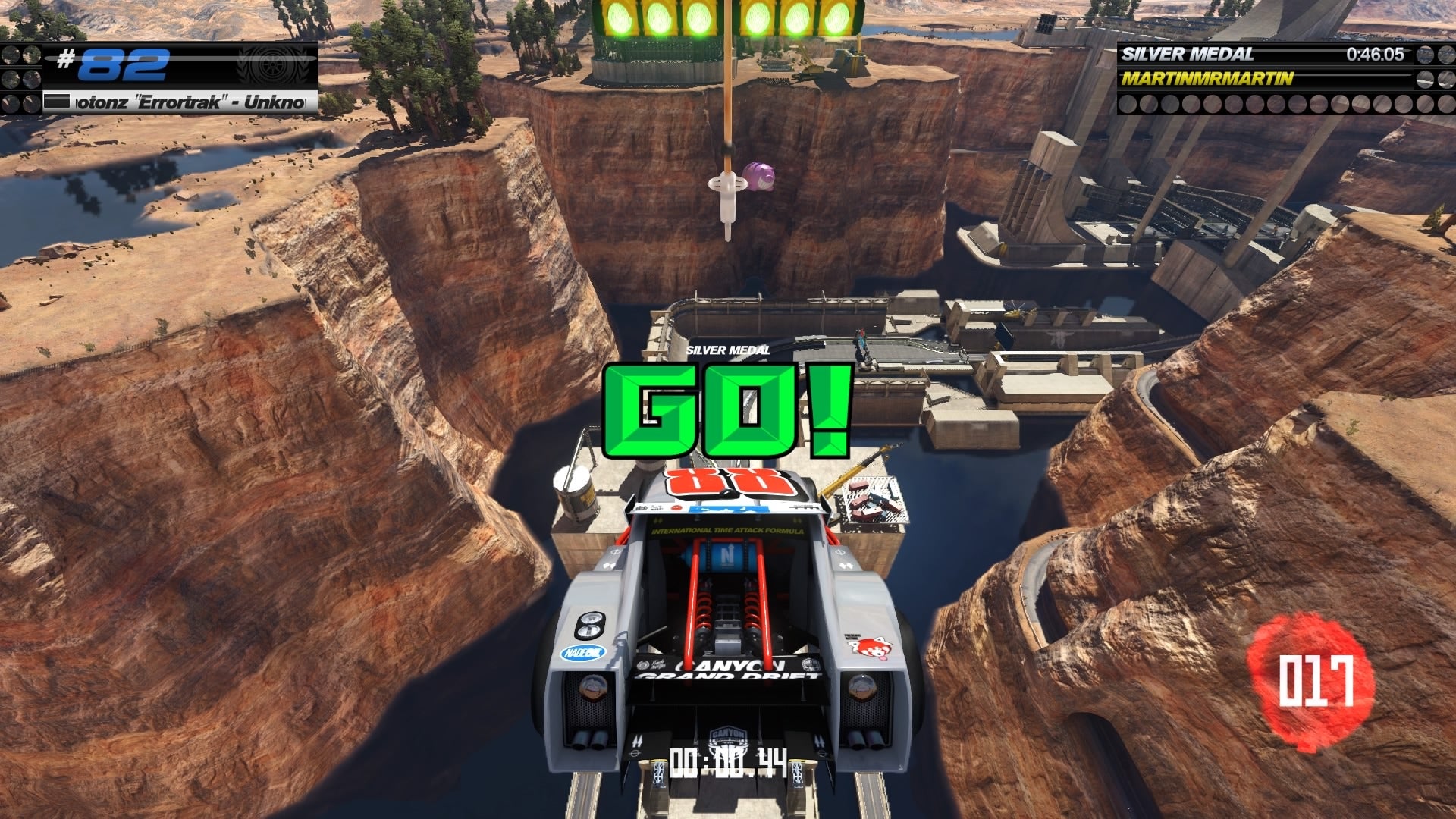 Turbo forgoes the twitchiness of older games, and instead inherits the weightier feel of Trackmania 2, where a pliable momentum underpins the four car classes on offer. It's a momentum pronounced in the drift cars of the Canyon playset, vehicles given to long lazy slides that can be gently massaged, and exaggerated in hyper-sensitive state in the buckarooing buggy that prowls Valley. In the formula cars of Stadium there's an emphasis on precision, while the all-new Lagoon cars and setting play up to the giddy excess of Trackmania, complete with strips of magnetic rollercoaster track that allow for impossible loops and twists.
Following the fractured release of Trackmania 2 on PC, delivered as it was in standalone elements, it's a delight to have Nadeo's fine work compiled in one all-encompassing, far-reaching (and budget-priced) package. It's not left wanting for things to do. A comprehensive track editor is included, available in beginner, normal or advanced modes and enabling a pretty mean creator - or, perhaps, you could just randomly generate a track, uploading the results to a challenge mode that distils the competitive essence of Trackmania. Or you could head for online multiplayer, faithful to Trackmania's staple offering where a hundred players all share the same stretch of tarmac, their ghostly frames fleeing from the start-line like a flock of noisy starlings as they pursue the fastest time.
What's wonderful about Trackmania Turbo is that the series has lost next to nothing in its move to console. In fact, it's gained a fair bit.
Trackmania on PC has often been a beautiful game, but also an ungainly one, marred by a beastly UI and a tendency for blunt functionality over any sense of style or grace. Turbo, though, is something else entirely, taking an unashamed and glorious debt to 90s arcade sensibilities that lends it an approachability and vibrancy that's previously been absent from the series. It's a vibrancy that's capable of uplifting the entire game.
Nadeo has embraced the console brief with both hands, delighting in past classics, and while Trackmania has never been short of its own surreal beauty it's now got serious colour, too. Bathe in the rippling waters, blue skies and palm trees of the Lagoon settings, and you'll see something of Sega at its 90s best, while in the brash graphics of red pandas and big neon hiragana signs that loom over Stadium there's a dash of Designer Republic and Wipeout's iconic sensibilities.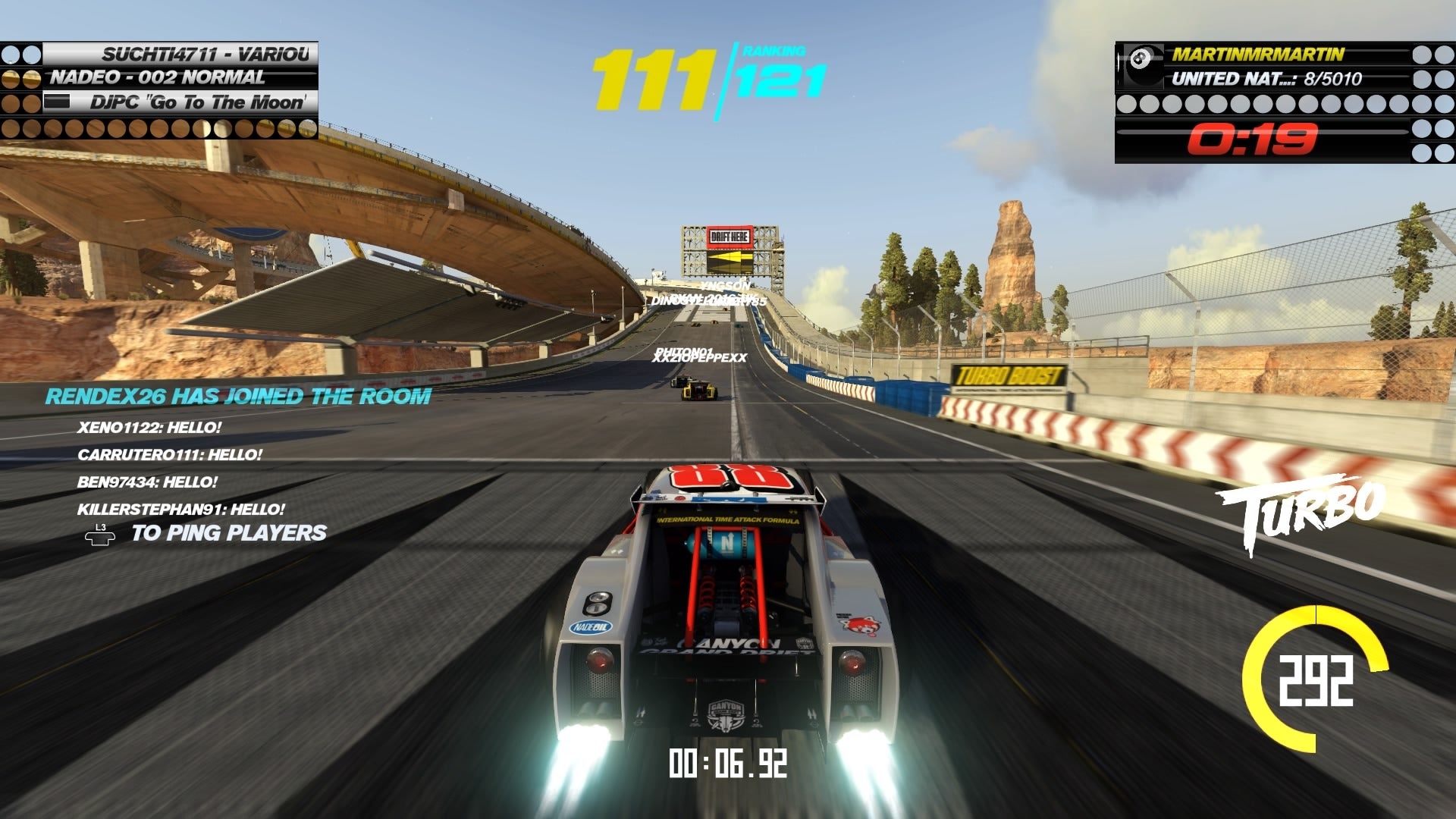 The colour seeps beyond the aesthetic, lending Trackmania a boisterous sense of fun. Nadeo understands that 'arcade' means more than just bright skies and green grass; it means a sense of communal enjoyment that Trackmania Turbo gets to the very heart of. There's split screen racing for four players, local leaderboards and hot seat driving for pass the controller competition and a double driver feature that puts two players in charge of one car - a chaotic, nonsensical and riotous addition that could happily earn its place at the end of the pier alongside the love testers and shock machines.
It's enough to cast Trackmania in an all-new light, filling in a line between Nadeo's series and classics such as F-Zero and the racing output of AM2 that, it turns out, was always there. Only now it's more explicit in the impossible moments of flight, the rude cambers and the tracks that corkscrew out of control. All of which is not to say that what made Trackmania sing in the first place has been forgotten. It's still there in abundance - something you'll find is true when butting up against the severe challenge of later tracks.
Trackmania's a hard game, reaching the same levels of difficulty as its blood brother Trials in half the time. It can be off-puttingly brutal - the sensitivity of control required can be excessive (the d-pad's the way to go, a facet that'll be counter-intuitive to players so used to analogue control), as can the patience necessary for the latter challenges, and Nadeo's done itself no favours by sticking to a rusty unlock system in the campaign that's needlessly restrictive.
Elsewhere, though, this sings. It's a gleeful celebration of one of the finest racing series around, packaged with care and a new-found sense of style. Trackmania Turbo is so convincing on console it doesn't really feel like a belated port of a PC great. Instead, it feels more like a homecoming.