Too Human
Swords and Norsery.
It's not really in the room yet, but playing through a near-finished build of Too Human, Diablo III is certainly an elephant on the horizon. Cruising around the universe as a cyberpunk Norse myth splattering tinsel-covered robots with a big blue hammer, something Blizzard's Rob Pardo said the other weekend springs to mind: "If there were a ton of games out in the market that are the isometric action-RPG model, then we probably would have more seriously done a different approach." Too Human is trying to be something like that - a mixture of hackandslash and shooter and customisation-heavy RPG, with an isometric camera among the various automated options - but if this had come out a year ago would Blizzard have looked elsewhere for its next big reveal?
Too Human is the story of the Norse gods - who in Silicon Knights' thoroughly articulated fantasy are cybernetically enhanced humans - and their struggle against a machine army. For the single-player campaign, you play Baldur, Odin's son, and split your time between chatting and tinkering with your weapons, armour and augmentations back at home base and smashing up massive hordes of robots in gigantic dungeon fortresses.
Initially it's the latter that's more pronounced. Using the left stick to move and the right stick to attack, with other buttons for jumping, rolling and specials, you build up combinations by moving fluidly between opponents with gentle analogue swipes, juggling them into the air and building up combinations with directional gestures on the two sticks. Baldur's packing, too, so you can build gunfire into your combos, pulling the triggers and targeting enemies with the right stick, locking on to some extent. Successful chains, calling on both skills, feed a special meter that lets you unleash a devastating multi-target ground-pounding stun attack.
There's depth here, but it's the RPG elements, which announce themselves gradually over the opening hours, that draw you in with greater urgency. There aren't that many enemy drops, but there's a mountain of loot to recover on your violent adventures, some of which can be applied and re-crafted through the hub level's cybernetics lab, or simply invested in new equipment, and there's an elaborate skills tree to explore, which differs depending on which of the five character classes you chose at the outset.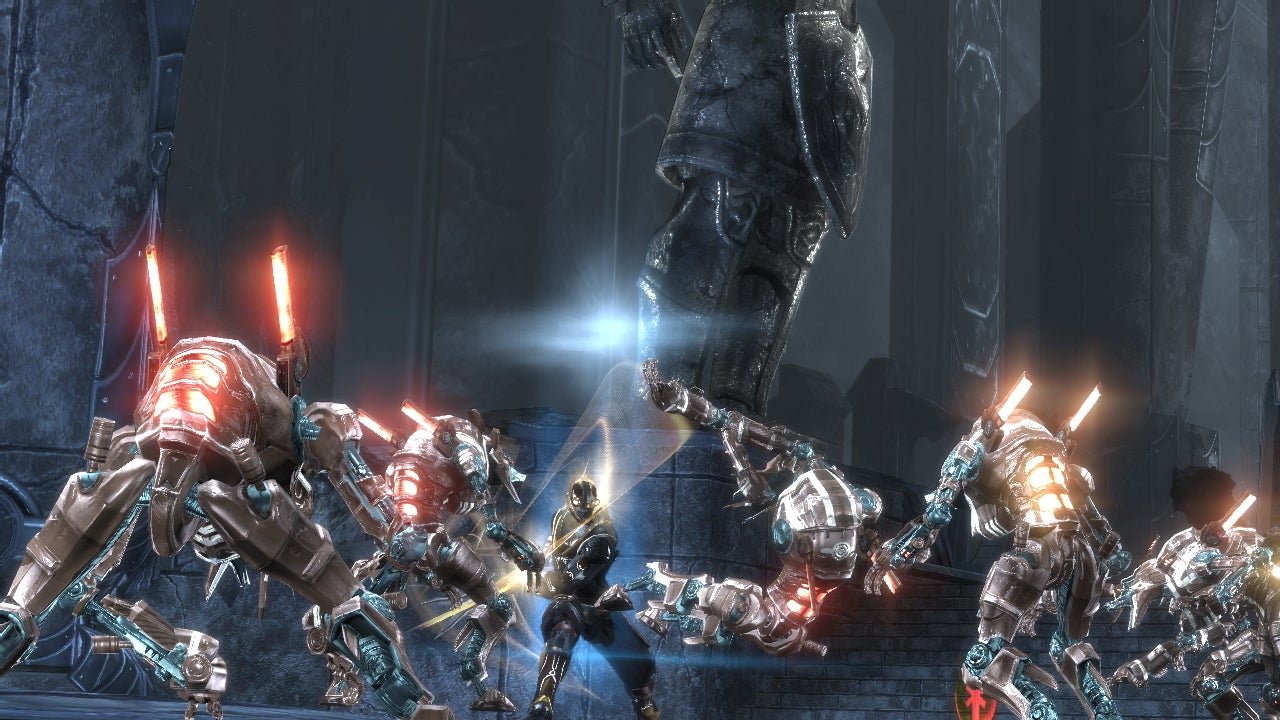 The interface for this looks complicated, but always signals which items are the best at any given time, and there's a healthy mixture of logic and choice behind the decisions you make on these screens. For instance, armour items often have slots for runes, which have modifying properties that may suit your play style, and after a couple of hours you're invited to choose one of two broader progressions to pursue: cybernetics or refined, combo-heavy human attributes.
You have to pay attention to get to the core of the game's expectations, though, because while you're getting your head around all this you're being thrashed constantly with head-spinning in-engine cut-scenes plotting the machinations and politics of Too Human's elaborate fiction. There's your dead wife to consider, and a god on trial, and Thor's secret feelings for Freya, and whether the mystical three-bodied NORN spirit (part wench, part crone) is right about your Wyrd. There's lots of shouting about who gets to go on missions, and lots of traipsing around the hub between cinematics. [Editor's note, 2020: this passage has been edited to remove an offensive term at the author's request. He regrets using the term.]
Despite Silicon Knights' very public spat with Epic about Unreal Engine 3, the developer's dragged a lot of vast, detailed environments out of the Xbox 360 for these scenes and the hackandslash combat to occupy. Dungeons are cavernous fortresses of ornate stonework glistening amongst pulsing blood-red technology; lifts between levels hide behind massive carvings that fold away from crackling torches and relentlessly impractical masonry; and dozens of bowing NPC soldiers (you're a god, remember) and shiny robot adversaries can inhabit the same space without the engine belching any discomfort.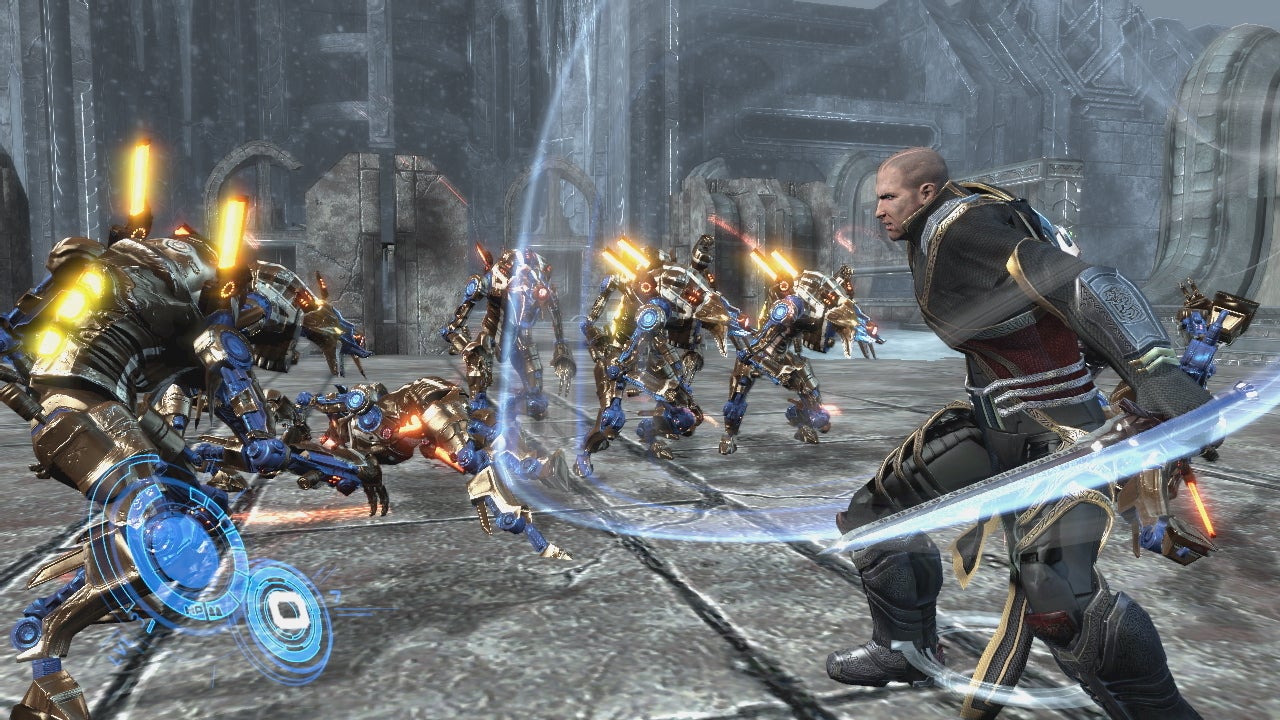 The developer's proud of its fiction too, and waves its hybridised cyber-Norse flag at every opportunity. Thor takes a seat at the dinner table by plonking his hammer down and cracking the glass surface, which gradually reconstitutes itself as you stare through it from below and admire his hulking crossed legs, and death is punished by an unskippable animation of a robotic valkyrie descending out of a white light to scoop you up to the heavens (or more accurately to a save checkpoint a hundred-or-so feet in your past).
The occasional pop-in texture or pause before a door opens are the noticeable costs of the game's epic construction, but the rather more grating one is the absence of environmental interaction, with invisible movement buffers around jagged edges and rather a lot of walls you have to walk around rather than jumping over.