Tokyo Jungle just £9.99 on EU PlayStation Store today
But still no Counter Strike: GO.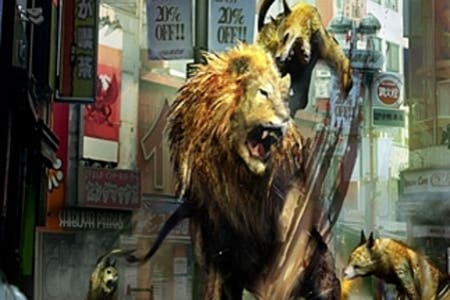 Post-apocalyptic Attenborough 'em-up Tokyo Jungle is available to download from the EU PlayStation Store today. It costs just £9.99.
"Tokyo Jungle is a celebration of classic games, with their ridiculous plots, repetitive tasks, excessive violence and all," Ellie Gibson wrote in Eurogamer's 9/10 Tokyo Jungle review. "It pulls off the impressive and nigh-on impossible trick of being an original homage. Also it lets you set a giraffe on a bear."
Fabulous stuff. Bringing us back down to earth is, almost predictably, the non-appearance of Counter-Strike: Global Offensive on PSN for a fifth week. Regular PlayStation blog staff member/sacrificial lamb Jawad Ashraf was entirely silent on the subject, but we haven't forgotten.
Otherwise, it's a bustling update - with retail releases F1 2012 and FIFA 13 turning up for download priced £47.99 and £49.99 respectively. F1's out today, FIFA is out Friday.
You can get all three inFamous games in one collection for £28.49 (we're counting the standalone inFamous 2: Festival of Blood expansion). Clear out your hard drives though - it weighs in at 25.6GB.
Also for PS3: Peace Walker HD Edition (£11.99), Mirror's Edge (£15.99) and the PS2 Classics version of Grand Theft Auto 3 (£7.99).
Vita gamers (hello, you!) get FIFA 13 on Friday too, which costs £39.99. More exciting is New Little King's Story (£34.99), a sequel to the marvellous Wii original that nobody played.
The full line-up of content is listed over at the EU PlayStation blog.