Tiger Woods nabs Wayne Rooney DLC
Blockbuster exclusive.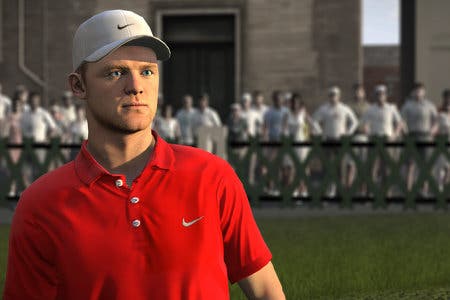 It is one of the most bizarre cross-promotions we've seen yet.
Pre-order Tiger Woods PGA Tour Golf 13 at Blockbuster and you'll get Manchester United and England striker Wayne "stop playing me on the wing" Rooney as a downloadable add-on golfer.
You also get Arsenal's Theo "he's got potential" Walcott, Manchester City's James "I don't know my best position" Milner and Chelsea's Petr "I'm the best keeper in the world and play for the best team in the world" Cech as part of a DLC pack of four footballers.
That's the first pre-order bonus. The second features US sports stars. Ice hockey legend Jeremy Roenick, American Football Hall of Famer Marshall Faulk, basketball player Dwight Howard and boxer Sugar Ray Leonard are included.
Tiger Woods PGA Tour 13 launches at the end of March. Images of Rooney and co are below.