The Sailor's Dream drifts ashore on iOS today
Simogo's follow-up to Device 6 costs £2.49.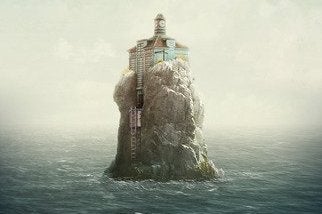 The two-person Swedish studio Simogo made quite the name for itself with its last couple of iOS releases, Year Walk and Device 6, and now its latest minimalist adventure, The Sailor's Dream, has arrived on iOS for £2.49 / $3.99.
Like its last couple adventures, The Sailor's Dream teases some sort of meta narrative around its tale of wayward souls drifting the seas. "Explore an ocean dream world, in which time passes even when you are not there, visit forgotten islands and piece together memories - some even existing beyond the screen of your device," the developer teased in its cryptic description.
Simogo previously described its gameplay as "a challenge-free experience in which you explore a non-linear story through words, music, sounds and illustrations." So basically, it looks something like this: