The late Kenji Eno's final project, Kakexun, is now on Indiegogo
As his colleagues carry out his swan song.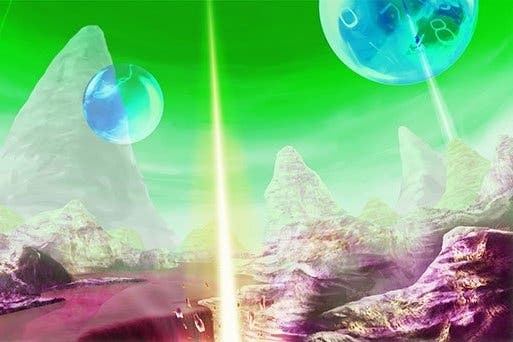 Kenji Eno, the famed Japanese developer behind such esoteric titles as D, D2, Enemy Zero, and You, Me and the Cubes may have passed away in February 2013 at age 42, but the brilliant and eccentric game designer wasn't going to let that stop his final project, Kakexun, from seeing the light of day.
Instead, his developer colleagues decided to carry on his work to the best of their abilities. Kakexun launched a crowdfunding campaign earlier this year where it raised ¥5,486,300 (about £30K / $47K) for an alpha, and now it's launched an Indiegogo campaign in the west to see the the game through to its beta.
The Kakexun project was initially launched by chief director Kazutoshi Iida, creative director Naoya Sato, and the producer Katsutoshi Eguchi. As one would expect of Eno's work, Kakexun sound weird. Really weird.
"With the help of the gaming community, we will bring Kakexun's themes of cosmology (the origin of the universe) and philosophy to life in video game form," the campaign stated. "This is the purpose of Kakexun. Using online game features to battle with numbers and geometry, encounters in unknown dimensions, and brutal battles with enemy creatures, we will create a game world that everybody can enjoy."
If battling numbers and geometry sounds a bit strange, well, strap in as it only gets stranger. When trying to describe its gameplay, developer Warp2 provided the following enigmatic description:
"The world of Kakexun is composed of story stages and action stages. In action sections, the player selects from a large quantity of numerals which spring forth at certain points from the air and ground of the game's world. Players will answer the challenges from the selected items in the game world.
"If the correct answer to a problem is chosen from the various selections, the world responds with a delighted melody, the terrain of the world changes, and the player may advance. If the player answers incorrectly, the world makes a dissonant sound and the world edges closer to collapsing.
"In the story section of the Kakexun world, the world is controlled by a hyperdimensional conscience called "Dimension N." This dimension was created from numbers, and is ruled by geometrical figures and polyhedrons. From here, the player faces hyperdimensional battles with creatures which have been sent in. The player must create this world, decipher numerical figures and numbers, and liberate the world from 'Dimension N,' beyond time and space."
Clearly, Eno was nothing if not experimental. Kakexun is looking to raise $100K before 28th December, so it can bring the beta to iOS, Android and PC around May 2015. Pledges of $30 or more will receive copy of Kakexun upon its inevitable release.