The E3 Bulletin: Wednesday
Mind control! Cross-play! War!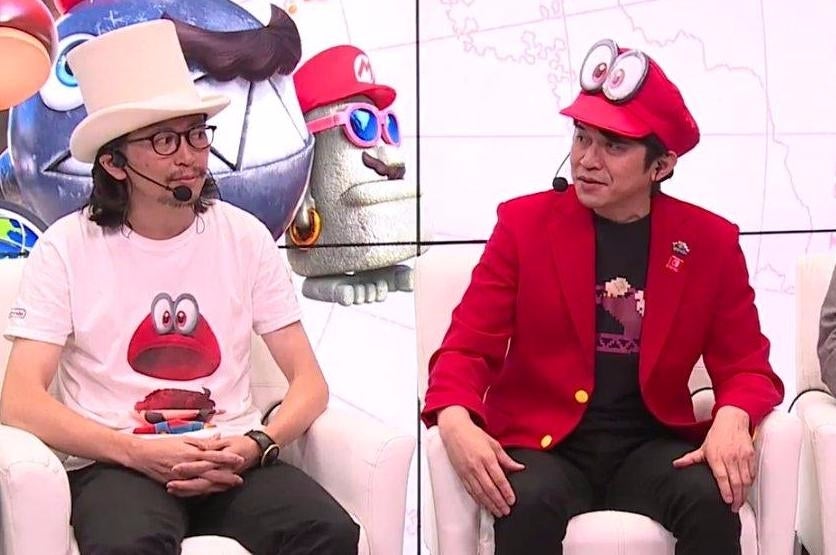 This week, we're doing daily roundups of the news from E3. Previous instalments: Monday | Tuesday
Well, there it is. Nintendo won E3, again, by showing up after everybody else's conferences and dazzling the faithful with something that was equal parts joy and creativity, again. Given everybody else leaned on franchises and tech specs, it wasn't a hard job, but it was nevertheless quite something to see the room light up when Super Mario Odyssey was revealed, and Tom was on hand to confirm that it's extremely trippy, even by Mario standards.
Microsoft : Xbox One X has an 8 core processor & 12 GB of
[Nintendo bursts in]
'u throw ur hat on a frog & ur the frog'
*crowd explodes* #e3

- AJ Jefferies (@moonjam) June 13, 2017
A new 2D Metroid was much more easily comprehended and similarly cherished, although mentioning Metroid 4 and Pokemon Switch in name only suggests that Nintendo has achieved victory by using the enemy's weapons against them, in the form of substance-free announcements and Unreal Engine. Still, it was a good show that punctured the impression that this year's show was light on things to get excited about.
This year's e3 pic.twitter.com/UdQjY6fWdd

- Kerma (@thereaIkerma) 13 June 2017
Preliminary research suggests that this year's designated memes are ontological discussions of Mario's mind control hat and Reggie's philosophical musings of the nature of Fun, so please proceed accordingly.
The conferences concluded, the show could finally begin, to the befuddlement of those on the frontline who feel like it has been going on for days. This year's show floor has been enlivened by the addition of 15,000 members of the public, which is working out okay-ish although it sounds like next year will see the other attendees retreat to fortified positions on the Upper Concourse rather than spend ten minutes trying to get from one booth to another booth right next to it.
Still, the news will out! What will not, this year at least, is Metal Gear Solid Survive, although it's nice to see that it still exists. Square has made Max a Deluxe Edition exclusive in the Life is Strange prequel, which is a good and well-thought-out marketing decision that is sure to be cherished by the fans. There are going to be some new packaging designs for Xbox One X games. You can't kill the dog in Far Cry 5, and Wolfenstein 2 makes you think about wheelchair accessibility.
Off in the world of Sexy Execs, Pete Hines would really like it if you stopped asking about Elder Scrolls 6 and Phil Spencer is happy that he could do a conference without Gears or Halo in it, and would like to bring Game Pass to PC. Jim Ryan is not against cross-platform play but says there aren't currently any conversations happening about it, apart from this week when it will be all anybody asks him about.
Ubisoft reckons that it's No Man's Skylanders is a "calculated risk", although it did not say what it did the calculations on. Drugs, perhaps. The Last of Us 2 was absent from the Sony conference in order to give Uncharted a chance, which is understandable because low-key releases like Uncharted really need to be smart about their PR. Elite Dangerous has joined the list of games getting updated for Xbox One X, Insomniac has confirmed that Spider-Man is properly physics-based rather than QTEs all the way down, and CoD WW2 has added a War Mode, which is slightly more innovative than it sounds.
PS4 has sold 60.4 million consoles worldwide, which is probably why it didn't bother dropping megatons in the E3 conference. Here are the VR trailers you missed in the Sony conference, and every PC game shown off at the show.
Away from the show floor Level 5 (creator of Ni No Kuni) acquired Inafune's Comcept (creator of Recore, Mega Man Zero and Yaiba: Ninja Gaiden Z, so not perhaps surprising that it was short of operating capital.) You can now be a gun smuggler in GTA Online. And Valve just launched Steam Direct, presumably hoping that everybody would be too busy watching trailers to notice.
That's about it for today - we're hitting the show floor again tomorrow, and will have all the stories for you then.