The E3 Bulletin: Thursday
Shenmue! Ghost Recon! Zelda! Mirror's Edge!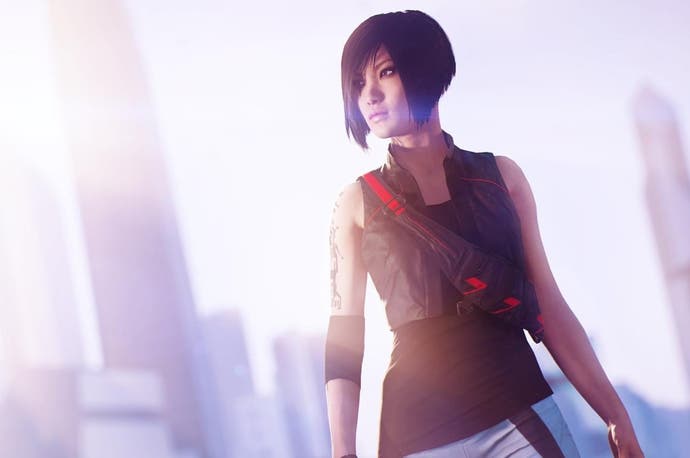 Our daily roundups from E3 2015: Monday | Tuesday | Wednesday | Friday
With Shenmue 3 and The Last Guardian now back on the scene (although the latter totally unchanged since we last saw it and the former not without some concerns) we've been wondering what unicorns the industry has left. Thankfully, Ubisoft has stepped up, confirming that Michel Ancel is not working on Beyond Good and Evil 2, probably thus ensuring the game's "impossible dream" status for at least another year.
With all the conferences now behind us, opinion is divided on who won but the broad consensus is that Nintendo lost. Martin argued that there's more to cherish than fans are saying (Nintendo put out an infographic on the subject, too) but while Miyamoto says that Zelda will still come to Wii U, we learned that the next proper Metroid is only going to be on NX. Meanwhile, Nintendo has explained Samus' absence from the new Federation Force: having four of her in the game "would be odd". Seems legit! The new Mario Tennis is good though.
Spare veggie lunches as far as the eye can see in E3 press room. The rush for the bacon option was like the wildebeest scene in Lion King

- Tom Phillips (@tomphillipsEG) June 17, 2015
Elsewhere in Is This Platform Doomed? news, Sony surprised nobody by saying that it isn't planning any triple-A games for Vita, while Microsoft said that actually, it does still love Kinect and will have have new Kinect titles before the end of the year. We wonder how many of these will be the final escapees from Don Mattrick's Interactive Entertainment dungeon. Don's not at the show this year, but fans of his Terminator-esque empathy gap are catered for by EA's Andrew Wilson, who made some promising noises about creativity as embodied by Unravel but then spoiled it with repeated references to "human beings".
The folks on the show floor have been discovering that Ghost Recon Wildlands can indeed be played solo, that Dark Souls 3 is made by a separate team to Bloodborne and how Battlefront's co-op mode works. Apparently FIFA's going to be more balanced this year, too. What are the chances?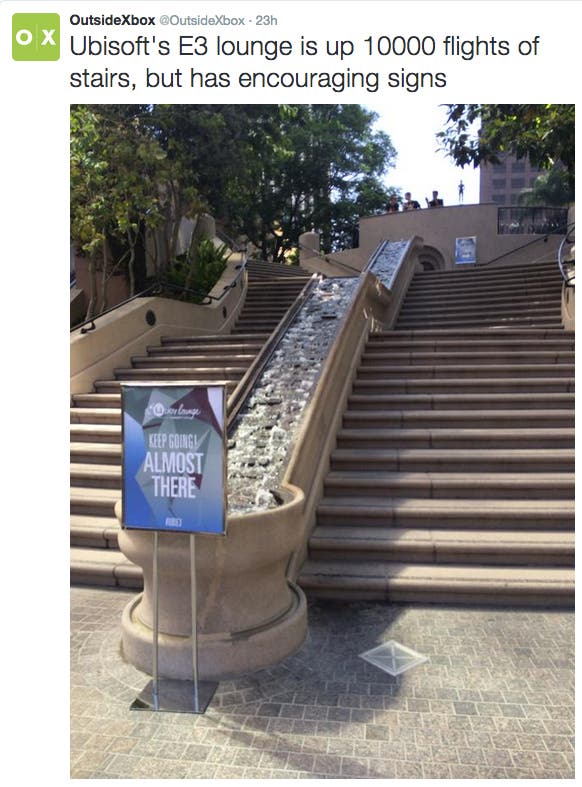 Over on PC, Dean Hall told us his studio has a VR game in development. Some ex-Bungie staff, including longstanding audio director Marty O'Donnell have started a new studio. The new Tony Hawk got a release date and some rather underwhelming footage, IO confirmed that its drip-feed Hitman release won't require a season pass, and Early Access ultra-realistic RPG Kingdom Come: Deliverance released a really shiny new trailer.
VR has been a surprisingly low-key presence this year, eclipsed by all the more conventional big-game announcements, but fans of magic hats still have much to look forward to. So far we've seen a characteristically trippy music game from Harmonix, a "look and click adventure" from the creators of Monday Night Combat, an attempt to combine Portal and football training and the discovery that you'll be able to play Super Meat Boy on Oculus Rift via Microsoft's odd Oculus partnership. Rock Paper Shotgun is inexplicably unmoved by this.
Back in the office we've been marvelling at the success of Fallout: Shelter, putting the Gears of War Ultimate Edition beta through its paces, and getting sad emails about the Arkham Knight Batmobile edition being cancelled.
We're heading into the final day of the show proper, and we've got some big interviews coming up, including Shuhei Yoshida and Bungie. If you have any questions for them, let us know on Facebook.
More E3 2015 roundups: Monday | Tuesday | Wednesday | Friday