The Division 2's Warlords of New York paid expansion liberating Manhattan in March
New campaign, overhauled endgame, more.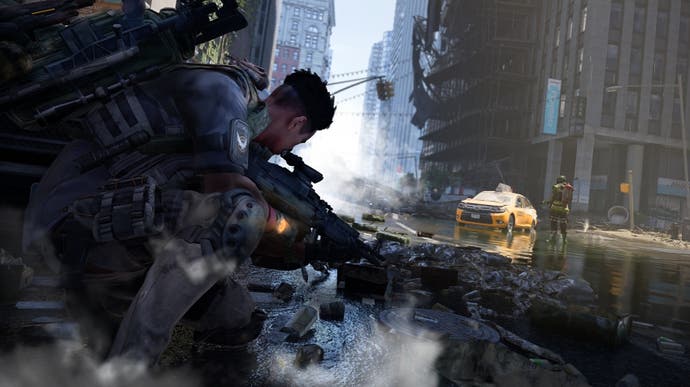 Ubisoft has unveiled Warlords of New York, a brand-new paid expansion for online shooter The Division 2 that's heading to Xbox One, PlayStation 4, and PC on 3rd March.
Warlords of New York, as its name implies, sees The Division 2 leaving its current base of operations in Washington DC and returning to the city in which the series started in order to tie up a few narrative loose ends left dangling in The Division 1.
Players - either working solo or with friends via online co-op - are tasked with bringing down rogue former Division Agent Aaron Keener, as well as his four lieutenants, in a campaign that unfolds in the hurricane-ravaged summertime streets of Lower Manhattan. It's open-world, as you'd expect, and Ubisoft is attempting another 1:1 recreation of the area, incorporating real-life locations including Battery Park, Wall Street, Chinatown, and Two Bridges.
Warlords of New York introduces a new level cap of 40 (players will need to have reached Level 30 and World Tier 5 to embark on the new campaign), as well as new gear, new weapons, four new skills, and an "infinite" progression system known as the SHD level. Once each rogue agent has been defeated, players can fast travel freely between Washington DC and New York City to work through all remaining base game and expansion content as they see fit.
This includes an overhauled endgame, which introduces new three-month-long seasons, each themed around a different target and their own network of cohorts.
Ubisoft promises unique stories for each target, as well as a variety of other seasonal activities and related rewards, including challenge-based Leagues and time-limited Global Events, the latter applying global modifiers to the entire game. Players can expect the first season to begin a week after Warlords of New York's 3rd March launch.
Warlords of New York's arrival will be accompanied by the new Title Update 8, featuring a range of core enhancements and updates. There's an RPG overhaul, enabling players to read and manage their gear more easily, a streamlined gear recalibration system, the return of god rolls - said to improve readability and help players more easily assess the usefulness of gear - and more. Dark Zones in The Division 2 will also be reworked, with Ubisoft promising a return to a "simpler rogue mechanic" intended to better reward player-to-player interaction.
Division 2 players interested in embarking on a trip to New York will have three purchase options come 3rd March. The expansion is available on its own - it's currently priced at £25.99 on the Ubisoft Store - or can be purchased as part of a new Standard Edition, which also includes the base game. Additionally, there's a new Ultimate Edition, featuring the base game and expansion, plus all Year 1 content, classified assignments, and unlocked specialisations.