The Binding of Isaac recreated in an insane Team Fortress 2 mod
Officially approved by Ed McMillen.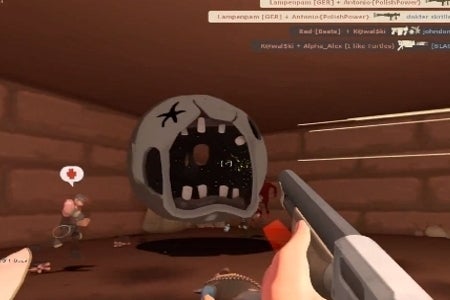 YouTube user lampenpam has created an impressive mod that rejigs Team Fortress 2 to take place within a 3D recreation of Ed McMillen's horror roguelike The Binding of Isaac.
As you can see in the video below, it recreates several of the boss fights and environments from McMillen's cult classic, including some of the extra, super difficult bosses from the Wrath of the Lamb expansion. It even makes thematic sense with Isaac's tortured psyche manifesting itself as multiple personalities at war with each other.
The mod is still a work in progress and lampenpam would like to add, "about 20 per cent more content and probably two more bosses and a few other features."
Even McMillen was impressed by this tribute. "Okay this is beyond awesome, very well done and in depth TF2 Binding of Isaac mod. Must see!" he wrote on his blog.
It's an impressive piece of work, but sadly it's not publicly available for download. Instead, players must log on to A Hat in Time creator Jonas "Mecha the Slag" Kærlev's Super Zombie Fortress server where the Issac map is in rotation. Regrettably it's US only, but if you're in the right place at the right time you could get some hands on time with the mod.