SWTOR vendors to sell ultra-rare white Lightsaber crystals
Hutt damn!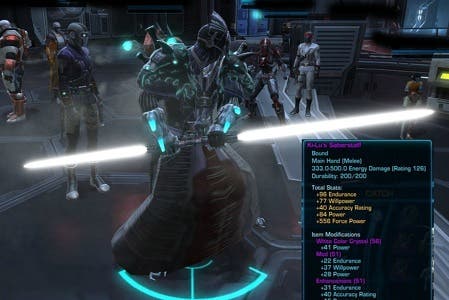 Those elusive white Lightsaber crystals that few SWTOR players had and others desperately wanted - they're going to be stocked at computer-brained vendors.
BioWare's revelation came via a brand new style of community blog post that teased future game changes. These posts are for "enterprising players" who study patch notes and exploit economic changes to make a fast buck/credit.
"In related news, a very limited number of pure white colour crystals have been recovered by a Hutt-sponsored expedition into uncharted space," wrote lead combat designer Greg Zoeller. "As of today, small stocks of these extremely rare and expensive crystals have started to appear in vendor stocks at the primary Imperial and Republic transportation hubs. With no new shipments expected for several months, those wealthy enough to afford these crystals may find themselves in possession of a highly sought-after collectable."
Gamers on the The Republic side of SWTOR will also soon have access to the rare purple Lightsaber crystal, previously only for Imperial forces. Sounds like more colours will follow in the future.
One mindful SWTOR player has detailed all of the new crystals available at the new vendor.
BioWare also warned of an impending reduction to the range of speeders available to buy. Sovereign, Prince, Baron, Commander and Prime speeders are being discontinued, and will be offered at "steep discounts" as a result.
"Those wealthy enough to afford these crystals may find themselves in possession of a highly sought-after collectable."

Greg Zoeller, lead combat designer, SWTOR
"Collectors and investors may want to take note that the previous limitations governing the resale of some vehicles seem to have been lifted and are encouraged to use the opportunity to purchase these legacy vehicles while they are still available," BioWare suggested.
The price of speeder Tier 1 and Tier 2 licenses will see a "significant decline", but Tier 3 licence price will be "significantly increased".
SWTOR patch 1.1.5 is on the game's Public Test Realm now. Patch 1.1.5 removes the Light Side / Dark Side requirements for coloured Lightsaber crystals, and much more.
All the while, BioWare chugs steadily towards significant milestone, Game Update 1.2.
"As we work to create a more player-driven economy," BioWare noted, "you can expect significant improvements to Crew skills, and an extension of Crew skill gameplay, such as item creation and research, into the Elder-Game content. You'll also see new items brought into the game, including new schematics, Legacy items, a new tier of Player vs Player and Player vs Environment weapons and armour, Legacy items, new schematics and the ability to extract base-mods from purple items, as well as many other changes and improvements."