Super Meat Boy Forever is coming to "phones, tablets and Steam"
UPDATE: Dev says it's "not an endless runner." Has chapters, bosses and more.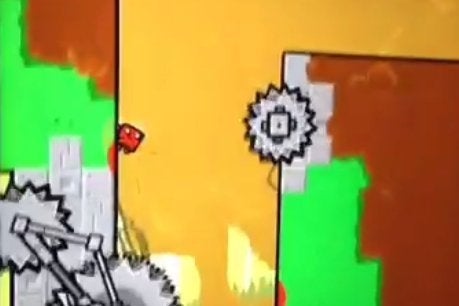 UPDATE 29/08/2014 11.03pm: Super Meat Boy co-creator Edmund McMillen has confirmed to Eurogamer that Super Meat Boy Forever is coming to smartphones in addition to PC and tablets.
When asked about platforms, McMillen responded in an e-mail, "phones, tablets and Steam... maybe more?"
Furthermore, McMillen noted on Twitter that "Super Meat Boy Forever IS NOT an endless runner. It uses auto run but its not at all endless."
"SMB: Forever is a full game like [Super] Meat Boy. It has many chapters, bosses, warp zones, and tons more," he added.
"We are trying to make a FULL game like the original, but designed for touch screens & mobile. A full experience not just an endless runner."
ORIGINAL STORY 29/08/2014 9.36pm: Team Meat has revealed Super Meat Boy Forever as an endless runner for "PC and tablets."
As reported by Joystiq, here's a brief Vine clip showing how a linear, mobile Super Meat Boy looks in action.
The project was teased a couple of weeks ago when Team Meat announced a game called A Voyeur for September, which the internet quickly discovered was an anagram for Super Meat Boy Forever.
The dev team of Edmund McMillen and Tommy Refenes is also working on Mew-Genics, a "cat lady simulator", although that project has been put on hold for the time being.