Super Mario Odyssey has co-op, sort of
Player Two is the sentient hat Cappy.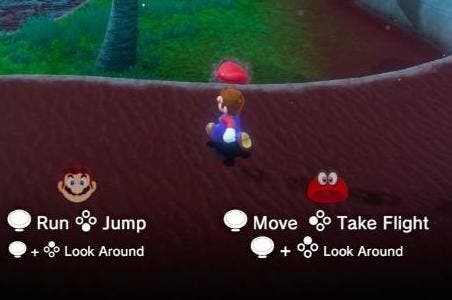 Good news: Super Mario Odyssey will feature co-op!
Bad news: It will be fairly limited with Player Two only controlling Mario's new sentient hat Cappy.
As such, they'll be invincible and can only offer support to the portly plumber controlled by Player One. They'll still have full range of movement and can damage enemies, move about while Mario is holding something else (Mario can't toss his hat if his hands are full in single-player), and collect certain objects in the environment, like musical notes for puzzles. They won't be able to snatch more important collectibles, like Power Moons, however.
Player Two can also control the camera, though that's not specific to them as both players are given access to this.
Jump to the one hour and 27 minute mark below to see Super Mario Odyssey's co-op in action:
In many ways controlling Cappy sounds similar to the Super Mario Galaxy games wherein the second player could control a pointer to collect things for Mario and manipulate the environment, but they operated entirely as a support entity.
The last mainline Mario adventure, Super Mario 3D World, had proper four-player co-op where each player was a fully controllable avatar, but that made more sense with that game's more authored design that heavily limited the player's camera control. Super Mario Odyssey is far more open-ended with its sandbox design encouraging looking around, so the camera wouldn't be able to hold everyone in view the same way.
Super Mario Odyssey will launch on Switch 27th October.