Stranger's Wrath HD on PS Vita out early to mid-Nov "at the latest"
Plus, an update on Hand of Odd and Lorne Lanning's thoughts on Microsoft.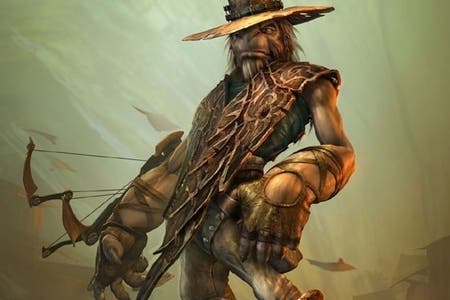 Stranger's Wrath HD on PS Vita will launch early to mid-November at the latest, according to developer Just Add Water.
Speaking to Eurogamer in an interview at Eurogamer Expo, JAW boss Stewart Gilray revealed the Vita version of the platform adventure first-person shooter is two weeks away from submission with Sony Computer Entertainment.
Assuming it passes Sony's certification process, it'll be greenlit for release.
Gilray, alongside Oddworld founder Lorne Lanning, was at the Expo to reveal the final name for Abe's Oddysee HD, now called Oddworld Abe's Oddysee New 'n' Tasty, and to show off pre-alpha footage (you can see this in the video below). It launches on PlayStation 3, PS Vita, PC and Xbox Live Arcade autumn 2013.
Gilray told Eurogamer about the first time he showed the Vita game to Sony Computer Entertainment America.
"We said, any chance of some space on your E3 booth? And they were going, there's no way. It's fully booked. I said, okay, I'll show you any way. I plugged it into their big telly in their wall, and they just went, hold on a minute. The PR girl left the room. She came back and said, you've got two spaces. They kicked someone off for us, which I felt sad about, but also like, yay!"
Following last week's announcement of Abe's Oddysee, some expressed surprise that the game is set for launch on Xbox Live Arcade given the high-profile problems JAW has had with Microsoft in getting Stranger's Wrath HD, which has already launched on PlayStation Network for PS3, onto the console. Gilray has in the past noted Microsoft's strict requirements, including the need for those who have not sold a million units of a boxed product at retail before to secure a deal with an established publisher to use one of their XBLA slots.
Gilray remained quiet on how Abe's Oddysee has found its way into XBLA's good books, but did note that Microsoft recently raised its 2GB XBLA game size limit, which had proved a stumbling block for Stranger's Wrath HD.
"It's ironic, because we just got Stranger to 1.8GB," he said. "So now it's like, okay!"
So, is there hope for Stranger's Wrath HD on Xbox 360? Will it ever launch on Microsoft's console? "Don't know yet," Gilray replied. "We're still hitting with hammers. I'm not going to give up. There is a point where we'll have to give up because we want to do other stuff, but while we're working on Stranger, we're still talking with them to see if we can get it on there."
Lanning went into more detail on XBLA, which he described as a closed network.
"Microsoft's model says if you're not pimping our box product you can't be a publisher on our system," he said. "You have to go through one of them in our closed network. So even though we pay for the games ourselves, even though we bring tens of millions of dollars in previous content to the game, even though we would deliver a final product that they don't have to spend a penny on, they're making it a requirement that we give away 10, 20 per cent of that at least to a publisher for doing nothing except having access to their platform.
"As a micro publisher who's 100 per cent self-contained, that does not make sense. We might have to compromise, but it doesn't make sense. If we look at who's going to succeed in the future and who's not, it's like the Sotheby's versus eBay. Sotheby's has a similar model. If we want your product! If you go through our dealers and collectors! If we like it you will be given the grace of being on our stage.
"And then eBay comes along and says, you know what, if you've got Ferraris or you've got Ferrari toys, if you have an audience that wants your product, whether you're selling it for a dollar or a million dollars, you can sell it on our network. Go forward 10 years. Who would you rather be? Sotheby's or eBay?"
If Microsoft doesn't change its rules for the next Xbox "they will not have the success they've had because the world's changing very rapidly around them", Lanning predicted.
What happens with success is people get inflated with success. The curse of success is you start thinking everything you did is smart. The benefit of failure is, you have to analyse and try and be smart and not assume you're always on top of it - Oddworld founder Lorne Lanning.
"What happens with success is people get inflated with success. The curse of success is you start thinking everything you did is smart. The benefit of failure is, you have to analyse and try and be smart and not assume you're always on top of it."
And finally, what of Oddworld: Hand of Odd, the real-time strategy spin-off JAW revealed had been revived back in April 2011?
"It's on the drawing board," Lanning said. "We have a lot of discussions about it. We announced it once and it didn't happen, so it would be a mistake to announce it again until we're absolutely...
"With each success we need to fill the coffers to be able to execute. On Hand of Odd, as we enter truly new IP, the cost goes up. We're looking at how best we stagger the bet and if we can profit each time we can do something bigger next time again and again and again.
"The goal is eventually we can finance our own triple-A new development."
Gilray said JAW plans to put a small team on Hand of Odd and start prototyping on it next year while the rest of the developer is finishing up Abe's Oddysee.