Spyro sold more physical copies at launch than Fallout 76
Pokémon outsold both, while Hitman flopped.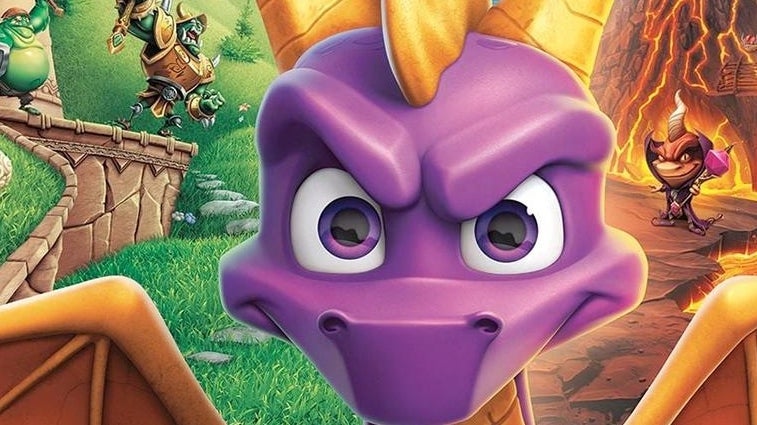 Spyro Reignited Trilogy is the UK physical chart number one, after it beat the physical launch sales of Fallout 76, Pokémon Let's Go Pikachu and Let's Go Eevee, plus a new boxed version of Fortnite, and Hitman 2.
But that doesn't tell the full story of last week - one of the most competitive in the year so far.
Spyro sold brilliantly, and Activision's purple dragon deservedly won the UK chart for the first time since his original PlayStation 1 game back in 1998.
But he did so only because Pokémon's two versions count as separate chart entries. If you combine Pikachu and Eevee's totals, Pokémon was the biggest launch of the week.
Eevee and Pikachu sales were down slightly (around five per cent) on Pokémon X and Y, the 3DS games released about the same time into that console's lifecycle. (They were down a lot more, around 60 per cent, on Sun and Moon - released when 3DS had a far larger install base.)
This may not be a huge cause for concern at Nintendo. Pikachu and Eevee are remakes, which never sell as well, designed for a younger audience which traditionally buys games over a far longer timeframe, instead of just at launch. And, of course, digital sales are on the rise - so will likely be much higher for Pikachu and Eevee. UK numbers company Chart-Track does not count these.
Our sister site GamesIndustry.biz reported issues with Nintendo's European warehouse meant UK stores lacked stock - with some selling out and being unable to fulfil pre-orders.
On to Fallout 76, which launched third in the chart this week but with just a fraction of the sales of its bigger Fallout brothers - down 82 per cent on Fallout 4. It's a spin-off game, and digital sales will almost certainly be higher - but it's fair to wonder whether its mixed reception so far may be to blame. (Expect Eurogamer's definitive review in the next day or so.)
And then there's Hitman 2, which scraped 10th place in the UK chart. Compare its sales with Absolution, the last game in the series not released episodically, and its physical launch sales are down 90 per cent. Where Fallout may make up some of its sales as an online, ongoing concern, you get the feeling that, for Hitman 2, this was supposed to be its big release week - a release week which was probably too busy for it.
The UK top 10 lies below:
Spyro Reignited Trilogy
Red Dead Redemption 2
Fallout 76
Pokémon Let's Go Pikachu
FIFA 19
Pokémon Let's Go Eevee
Call of Duty: Blops 4
Fortnite: Deep Freeze Bundle
Mario Kart 8 Deluxe
Hitman 2