Spin the Bottle: Bumpie's Party DLC will use the Wii U GamePad's camera
UPDATE: Due just in time for Valentine's Day as a free update.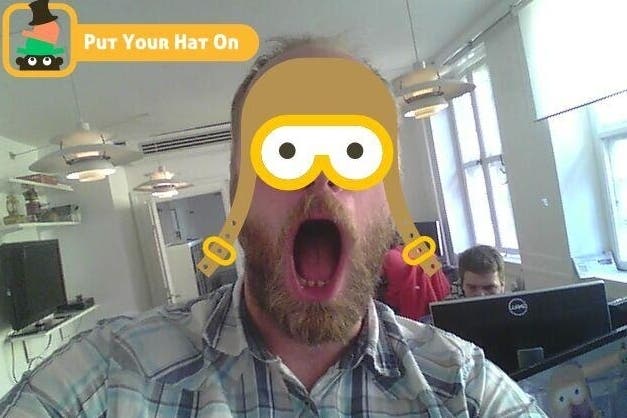 UPDATE: Spin the Bottle's first major content update will be available on 13th February, developer KnapNok confirmed on Facebook.
Originally due prior to Christmas, the substantial add-on was delayed two months. KnapNok's experimental indie has a unique pricing structure where those who get in early purchase it at a lower price and receive the updates for free, while those late to the party need to pay a bit more since the post-update game includes more content. As such, the price will increase from €6.99 / $8.99 to €8.99 / $11.99 following this update which ups the mini-game count to 23.
The danish developer also detailed a few of its new games that weren't described before. Footie Ball has two players control a ball on the GamePad using only their feet; Nature Photographer requires players to stand shoulder-to-shoulder, each gripping the GamePad to aim it around the room and take pictures of a virtual butterfly; and Body Twister tasks players with balancing the GamePad on part of their body while someone else has to touch the screen with the listed body part, like their butt. This one is best played over a couch or soft surface, I reckon.
This update also includes lots of new tweaks and updates like the option to choose what's displayed on the TV. Listed modes include: Classic, Campfire, Clone, and Camera.
ORIGINAL STORY: Spin the Bottle: Bumpie's Party will be adding its first title update shortly before Christmas that will include six new mini-games that implement the Wii U GamePad's camera, developer KnapNok has announced.
"Our theme for this update has been the camera and the GamePad. We explore a lot of different technologies in the GamePad such as the gyro, camera, facial detection, thumb sticks and even smile detection," said producer Dajana Dimovska. "The GamePad will be held used in ways we haven't seen on Wii U yet."
For example, one new mini-game will be called "Don't Laugh." The title is pretty self-explanatory. Two players stand next to each other, keeping their faces within the range of the GamePad's viewfinder. The audience will do whatever they can to try to get the players to smile or laugh, thus causing them to lose the game. "What is really great is that we take pictures with the GamePad while all this is going on. So after a minigame, you get to enjoy pictures of yourself looking silly. Oh and these pictures will of course also be saved in a gallery so you can laugh at them later," Dimovska explained.
KnapNok's Lau Korsgaard explained another mini-game, "Act Like an Animal," to me. The idea is that one player holds the GamePad facing another player. The player looking at the screen will see an image of an animal, and they'll have to mime the creature while the person holding the GamePad has to guess what animal their partner is indicating. The game encompasses six rounds of animal acting, while the GamePad captures several images of the mayhem.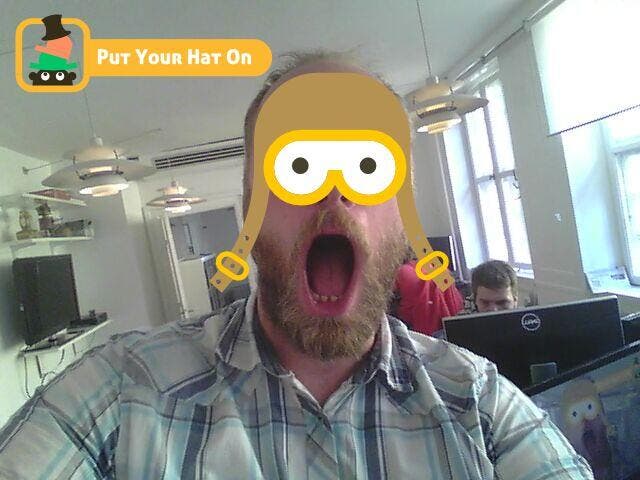 And here's a pic of some mini-game called "Put Your Hat On." I'm hoping all my years of hat-wearing experience will pay off in this one.
The full mini-game collection will be comprised of the following titles:
Don't Laugh
Body Twiste
r
Act Like An Animal
Footie Ball
Put Your Hat On
Nature Photographers
The update will be free for existing owners, but those who purchase the game after the update will have to pay a bit more. How much more you ask? KnapNok is still sorting the details, but said "it will probably be 'a couple of bucks.'"
To get a better sense of Spin the Bottle: Bumpie's Party, watch Oli, Ellie, Bertie, and Martin get into all sorts of physical shenanigans with it in their Let's Play video below.