Innovative party game Spin the Bottle to shake its booty on Wii U this May
UPDATE: You don't have to go outside. The dev just "wanted people to go outside more."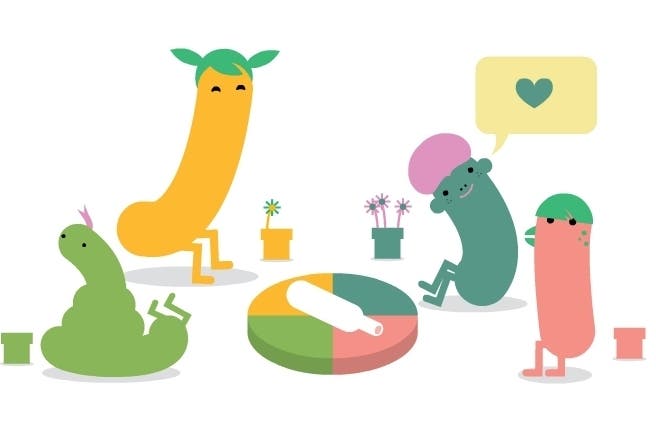 Update: KnapNok artist Simon Gustafsson has clarified this "sometimes go outside" business by saying, "Yeah, I just wanted people to go outside more. I hope this doesn't cause any confusion" in an e-mail to Eurogamer.
"Confusion is great," added KnapNok's Lau Korsgaard. "Actually, one of our key ideas with this game is that you can choose the location where you want to play - in and around your home. Because we don't rely on visual feedback from the TV, the players can play where it fits them: around the coffee table, in the bedroom, or outside."
Prior to receiving Gustafsson's response Korsgaard said, "I can tell you that we don't have any minigames which explicitly tell the players to go outside. Maybe Simon felt like giving this advice to the viewer because his own life, as he portrayed in this game, is extremely indoor and sad."
That game is Two and a Fjers Men [Haha], which I checked out last night and is equal parts hilarious and horrifying. It won the Jury's Choice Award and Audience Choice Award at Nordic Game Jam 2012. It's about a despondent man watching bad sitcoms with lines like "Alan, you don't joke about vaginas. Period." Warning: it's totally NSFW.
Original story: Last year I wrote about the bizarre-looking Wii U party game Spin the Bottle in which players would complete multiple motion-based co-op challenges after spinning a virtual bottle - i.e. Wiimote - over a GamePad to see what kooky task they must tackle with a partner. The TV would not be used. It's now been reveled that developer KnapNok Games is aiming for a May release.
The Copenhagen-based developer announced the release month to Joystiq, before confirming the news on its Facebook page.
The up-to-eight player game will be playable at GDC later this month where it was named one of the eight "Best in Play" games by the conference organisers.
KnapNok just released a new teaser for Spin the Bottle, which doesn't show off any gameplay, but does contain adorable hot dog-shaped characters and reveals the names of such mini-games as Pass the Badger, Grab the Rooster, Rocketman, and Outside. "Sometimes go outside," the trailer suggests. I'm not sure how that will work for people who live in not first floor apartments who won't be able to bring their GamePads outside and still retain a connection to their home console. Perhaps it's just life advice like the wise old man in Wind Waker who tells you not to stay up all night playing? I've reached out to KnapNok to figure out what the deal is with this and will update as I hear back.