Spider-Man Remastered keeps nod to Square Enix's Avengers game
String theory.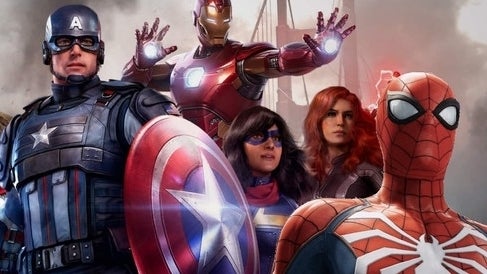 UPDATE 5.35pm UK: We've heard back from Sony and the dialogue line referencing Square Enix's Avengers will still in Spider-Man Remastered when it releases this week after all.
Reporting the matter on Twitter last night, Greg Miller missed an off-screen, unheard NPC who had butted into his gameplay with their own dialogue line - which cut off both the sound and subtitles for Spidey's ongoing speech at just the right (or... wrong) moment.
Miller suspected the line had been cut deliberately in order to differentiate between the Spider-Man seen in Insomniac's games and the version still set to appear in Square Enix's Avengers game at some point in 2021. Perhaps now the door is still open for it to be one and the same Spidey again?
---
ORIGINAL STORY 11.15am UK: Sony's newly-polished PlayStation 5 version of Spider-Man has seemingly cut a line of dialogue that referenced Square Enix's Avengers game.
Spider-Man Remastered isn't yet publicly available, but Kinda Funny presenter Greg Miller posted a clip showing the change on Twitter last night.
In it, you can see Spidey snapping a picture of New York's Avengers Tower. He then remarks: "Avengers Tower, so cool! Too bad they're never around to use it."
But in the original PlayStation 4 version of the game, the line then continues: "They're on the west coast or something. Probably surfing."
Square Enix's Avengers game features the Marvel team on the west coast, in San Francisco, with its opening level set on the city's iconic Golden Gate Bridge.
Interesting.

Spider-Man 2018 originally referenced the Avengers being on the West Coast in this scene.

This year, the Avengers game saw the team based in San Francisco.

Spider-Man Remastered on #PS5 no longer makes the West Coast reference. pic.twitter.com/W6zxNa4Jid

— Greg Miller (@GameOverGreggy) November 11, 2020
PlayStation never officially confirmed the dialogue was a nod to Square Enix's game but, to fans, the implication was pretty clear cut.
And, of course, Spider-Man is still at some point due to appear in the PlayStation versions of Marvel's Avengers - controversially, as a permanent console exclusive. (There remains no exact date for this to happen, other than at some point next year.)
In follow-up tweets, Miller suggested either Sony or developer Insomniac may have made the change in order to distance the two incarnations of Spidey. Referencing Square Enix's game may suggest to players that it is the Insomniac universe Spider-Man who joins Square Enix's Avengers team, for example.
We've asked PlayStation why the line was changed for this new version of Spider-Man.