Sony closes WipEout developer Sony Liverpool
Sony will try to relocate those affected to other studios, "but unfortunately some redundancies will be necessary".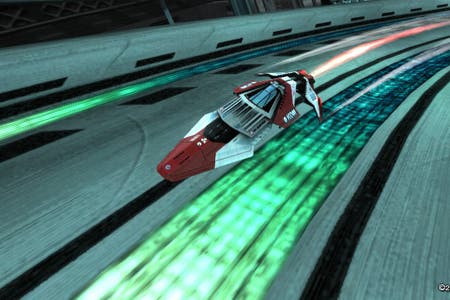 UPDATE 3: Sony Liverpool has bid a tearful farewell to WipEout, the sci-fi racing series that defined a generation and helped PlayStation achieve its wonderful mainstream success.
On the WipEout 2048 Facebook page an update let fans know of the unfortunate news that broke this morning.
"As some of you may have heard Sony have chosen to close Studio Liverpool as of today," the update reads.
"This page will no longer be maintained by the WipEout Team.
"We have loved making every game, every minute and every one of you. Keep the faith, keep loving WipEout.
"Thank you for everything, Pilots. It's been an amazing journey and we'll miss you. X"
UPDATE 2: Sony has contacted Eurogamer to stress that the only part of the Liverpool campus that is being closed is WWSE Team Liverpool.
The campus will still house FQA, GFPQA, XDev, CSG-Video, Localisation services and WWSE Finance, among other departments.
A Sony spokesperson also said the company will try to relocate those affected to other studios. "We will be looking to relocate the team members throughout the studios, but unfortunately some redundancies will be necessary and in those cases we will assist staff in any way we can."
UPDATE 1: Sony has confirmed the closure of Sony Liverpool.
In a statement Sony said it was focusing on other studios that "are currently working on exciting new projects".
The statement in full:
"As part of SCE Worldwide Studios, we do regular reviews to ensure that the resources we have can create and produce high quality, innovative and commercially viable projects in an increasingly competitive marketplace. As part of this process, we have reviewed and assessed all current and planned projects for the short and medium term and have decided to make some changes to our European Studios.
"It has been decided that Liverpool Studio should be closed. Liverpool Studio has been an important part of SCE Worldwide Studios since the outset of PlayStation, and have contributed greatly to PlayStation over the years. Everyone connected with Liverpool Studio, past and present, can be very proud of their achievements.
"However, it was felt that by focusing our investment plans on other Studios that are currently working on exciting new projects, we would be in a stronger position to offer the best possible content for our consumers.
"Our Liverpool Facility will continue to operate, housing a number of other vital WWSE and SCEE Departments.
"This should not take anything away from the great work WWS are doing and the incredible games and services that we have made, and continue to make, both for this coming year and further in the future."
ORIGINAL STORY: Sony has closed down WipEout developer Sony Liverpool, according to reports online.
News first emerged on the GRCade forum, where user Shadow said the studio once called Psygnosis was shuttered after all its projects were cancelled.
"They got rounded up this morning and Michael Denny [Senior Vice President of Sony Computer Entertainment Worldwide Studios] explained the company was being 'reorganised'," Shadow said in a follow up post.
The news was backed by a tweet from Sony Liverpool developer Sandy Lobban, who said: "End of an era today for Studio Liverpool. Honoured to have been a part of it."
The closure sees the end of one of the UK's most-loved developers. The studio began life as Psygnosis in 1984, and was snapped up by Sony in 1993 before being re-branded as Sony Liverpool in 1999. It played an important role in the success of PlayStation with the release of WipEout in 1995 and then Colony Wars in 1996. Sony Liverpool has developed launch titles for every PlayStation format ever released, most recently WipEout 2048 on PS Vita.
Sony Liverpool's building is also home to first party QA, which handles European quality assurance for Sony Computer Entertainment games.