Sony announces PlayStation 4, shows DualShock 4 controller
UPDATE: Confirmed for "Holiday 2013" release.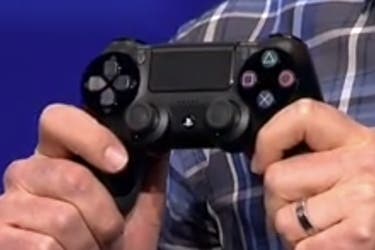 UPDATE: Two hours and five minutes later, Sony has closed its PS4 unveiling with word on the console's release - "Holiday 2013".
No specific date (or price) or information for individual regions was mentioned.
And, despite naming the thing and showing off its controller, we didn't get to see the console's box. That's presumably been left as a present we can't peek at until E3.
Sony has confirmed the ability to hook up smartphones and tablets as a secondary screen - showing maps and other information during gameplay, and allowing users to exchange messages and make purchases from the PlayStation Store. The abilities will be made available via PlayStation App, a download for iPhone, iPad and Android devices.
PS4 will come with a new PlayStation 4 Eye camera in the box - similar to how Kinect 2.0 is expected to ship with the next Xbox. PS4 Eye will let users to log in via face recognition and allow the use of gamer's body movements or voices in games. It works using dual camera lenses to capture a better view of the gameplay space, and four microphones to accurately source who's speaking. A mono headset will also be included.
ORIGINAL STORY: Sony has named its next-generation games console, and - you guessed it - it's called PlayStation 4.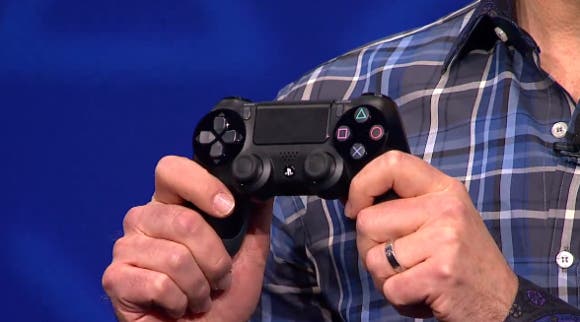 The company has also shown off the new PS4 controller, the DualShock 4. It looks almost exactly like the prototype leaked last week, with a front touchscreen and PlayStation Move-style light bar sensor to identify players.
The pad's rumoured share button and headphone jack are also present.
The Share button will allow you to browse back through your last few minutes of gameplay and upload key moments.
You'll be able to download and update games in the background even with power off, while digital games will be playable as they're being downloaded.
Find a game you like on the PlayStation Store and you'll be able to stream a demo of it using Sony's Gaikai technology. You'll also be able to stream your gameplay to your friends - the service will be linked to UStream and Facebook - and they'll be able to send messages to your screen.
Remote Play has been built into the architecture of PS4, and the long-term goal is to make any PS4 game instantly playable on Vita, Sony said.
PlayStation - the brand - is evolving, Sony exec Andrew House explained, adding that it would be the place for emerging types of gaming such as episodic and free-to-play games.
"PS4 will unleash imaginations," House continued. "An idea with enough vision to lead the ever-changing landscape."
Watch the conference as it unfolds via Eurogamer's live-stream page.