Someone's remade Beat Saber in the Dreams PSVR update
Cut and paste.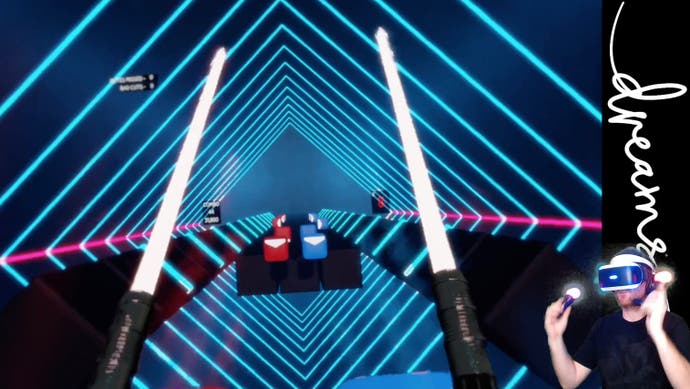 Earlier this week, Media Molecule finally released its much anticipated VR update for Dreams and of course one of the first things made by the community was a remake of Beat Saber.
You can watch me take this tribute for a test drive in today's episode of Ian's VR Corner, along with a selection of other Dreams VR creations that have been made by both Media Molecule and the community.
In the video above, you'll be able to watch my first impressions of the update, which includes some genuine yelps of joy, surprise and amazement. This is especially true when I take Tectonic for a spin, a racing game that is by all accounts a VR version of Motorstorm Apocalypse. It comes complete with earthquakes that radically alter the track layout, a skyscraper that splits in half as your car jumps towards it and a helicopter crash or two for good measure.
As with standard Dreams creations, this incredible quality is very inconstant and there's plenty of muck to wade through before you're able to stumble across something that will take your breath away. Control methods are also inconsistent and they vary wildly depending on the creation you're playing so expect to be swapping from Dualshock to Move and back again on the regular as you explore.
Comfort-wise there's also a lot to think about here. While the Dreams VR update does include a variety of comfort options such as teleportation, blinkers and click-turn, each experience is so unique it's very hard to predict how a game will make you feel. Thankfully there are ways for creators to rank the intensity of their creations so bear that in mind if you're new to VR as some of the more experimental builds can be rather intense on the old inner ear.
In my opinion, the VR update for Dreams is the best thing to happen to the game. Not only has opened it up an incredible amount of possibilities for new and imaginative Dreams, but it can also act as a good testing ground for developers to experiment with new VR ideas.
If you've already jumped head-first into Dreams VR, let us know your picks for the best creations you've found in the comments below. For me, Tectonic and Beat Saber are must plays, but there's also a pretty cute prototype for a VR version of Little Big Planet in there too!
If you enjoyed this episode of Ian's VR Corner, you can catch up with my previous adventures over on YouTube in our VR playlist, where I've covered Valheim VR's motion controls mod, Doom 3 VR Edition and everything we know about PSVR 2 so far. You can also read our list of the best VR games.