Snake Pass release date set for March on all platforms, including Switch
Snake? Snake? Snaaaaaaaaaaake!!!!!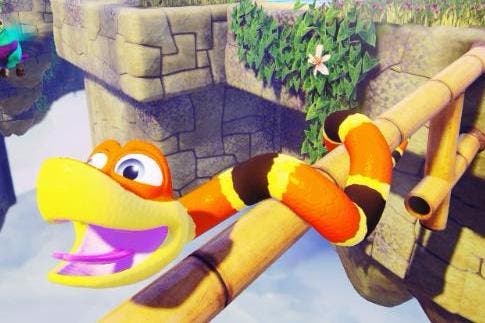 Retro arcade collectathon Snake Pass is coming to Switch, PS4, Xbox One and PC on 29th March in Europe (and 28th March in North America).
Developed by Sumo Digital, the studio behind such hits as Sonic & All-Stars Racing: Transformed and LittleBigPlanet 3, Snake Pass looks like the game the N64 wishes it had. Navigating a bright 3D jungle, players control Noodle the Snake as they slither around various moving obstacles in an effort to snag all the shiny things. You'll occasionally get to control Doodle the Hummingbird too.
"Snake Pass is a real passion project for the team. It's been so fun creating our own characters, visual style and establishing our own voice as IP creators," said game creator Seb Liese. "Our mission with Snake Pass, was to make the simple act of controlling Noodle the Snake as fun as possible. Once players start to 'think like a snake', they will be amazed at the incredible feats of acrobatics they are capable of."
The PS4 version of Snake Pass will have PS4 Pro Support, allowing for higher resolutions on 4K TVs, while the Xbox One version will have Play Anywhere support, making it accessible on Windows PCs at no additional charge. Meanwhile, on the Switch, you can play it on the go. Possibly at swanky rooftop parties.