Skyrim mods on PS4, Xbox One, PC - How to install mods in the Special Edition release
How to quickly customise your game in the remastered release on consoles and PC.
For the first time on consoles, players will be able to download Skyrim mods on PS4 and Xbox One.
The recent launch of mods in Fallout 4 allowed players to customise their adventure with graphical tweaks, new sound effects and even entire new missions, and with hundreds mods available from day one on Xbox One, expect similar healthy support for Skyrim upon release.
If you are playing the 2021 Anniversary Edition, we have explainers on features such as fishing.
On this page:
How to install mods in Skyrim remastered on PS4 and Xbox One
Mods in Skyrim Special Edition on consoles are accessed in the same way as Fallout 4 on Xbox One and PS4, but require a step before you can get started. Here's what to do.
1. Go to Bethesda's official website and create a Bethesda.net account, if you haven't already.
2. Once you have an account, select the Mods option on the game's main menu and log into your account.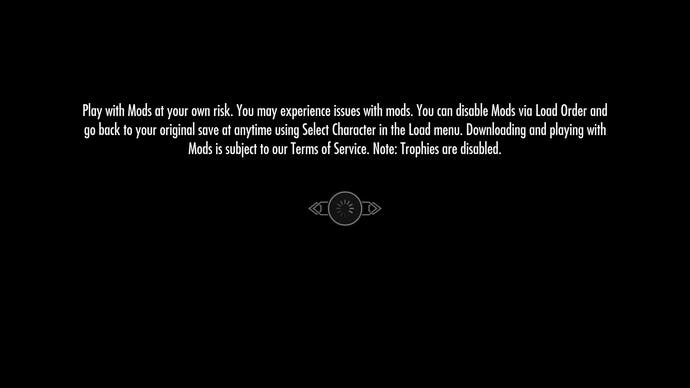 3. Start browsing and downloading mods. When you select a mod, you can read its description and in-game changes on the right, and its download size and ability to favourite, download and report on the left.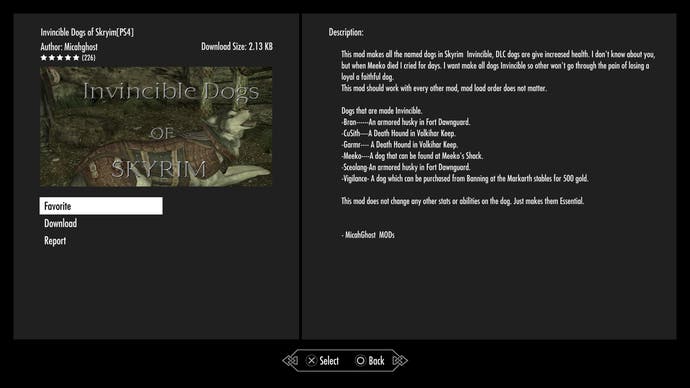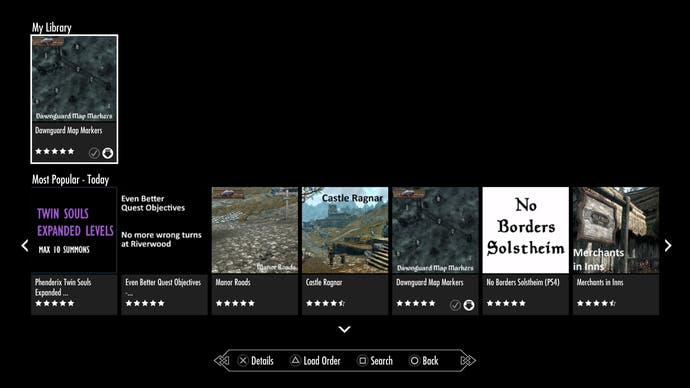 4. Once you have finished downloading mods - you can see everything you've installed in 'My Library' at the top of the page - go back to the Main Menu by pressing Back. The mod selection and data files will reload, and you can load a save with the mods installed.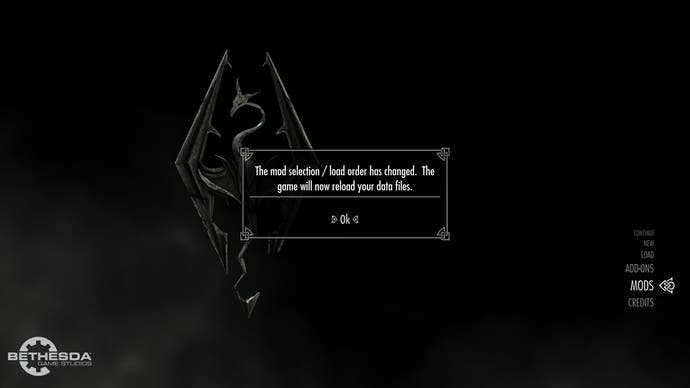 There are a few things to note when installing mods on a console:
As Bethesda points out in its loading screen, mods are always at your own risk - if there are issues, you can always disable Mods by going back into the Mods menu. You can also see what's downloaded during play on the Pause screen.
Trophies and Achievements are disabled while mods are active.
It's possible to view all available mods by platform - PS4, Xbox One and PC - by logging into your Bethesda account on the publisher's official website.
If the Mods section isn't visible, make sure your game is updated to the latest version. On PS4 in Europe, the patch won't go live until the morning of launch day:
EU players: The update for PS4 Mods on Skyrim Special Edition will be going live shortly. Once you have the update, please restart the game.

— Bethesda Support (@BethesdaSupport) October 28, 2016
What is the difference between Skyrim mods on PS4 and Xbox One?
After some initial back and forth between Bethesda and Sony, the PS4 version of Skyrim will feature mod support, but will only allow assets that already exist within the game - so don't expect anything like Thomas the Tank Engine Dragons on PS4.
As a result, there has been a large gulf between the number of mods available on both systems - 38 on PS4 versus 119 on Xbox One. Meanwhile, the storage space reserved for mods on each console is also different - 5GB on Xbox One, and 1GB on PS4.
As our story on the news mentions, mods should mostly consist of text changes that can be as small as 1MB, so expect creations like a level editor with new quests and dialogue, or changes to how the world behaves, than anything new and unusual.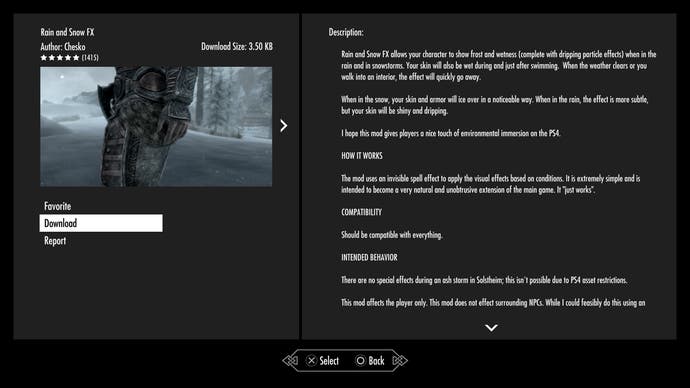 On Xbox One, meanwhile, expect something along the lines of what we've seen in Fallout 4 on console so far:
---
Want more help with Skyrim? Find out how to join every guild and faction, how to earn Gold fast, learning about XP and levelling to 100, max Crafting skills, max Warrior skills, max Thief skills and max Mage skills, how to get married, where to buy a house, how to start Dawnguard, Hearthfire and Dragonborn DLC expansions. If you're on PC, we have a list of console commands and cheats, and you can learn about the remastered version and how to install mods with our Skyrim guide. Finally, with Switch owners, we have Skyrim amiibo support explained to help unlock special Zelda-themed items.
---
How do PC mods work with the Special Edition?
On PC, while you are able to use existing mods (found on destinations such as Nexus) in the new release, and it will also support those uploaded through Bethesda.net's own Creation Kit library, as mentioned with the steps above.
A small note on mods - while existing save files will work from original Skyrim to the Special Edition, it's advised that only original saves without mods be transferred, otherwise you'll get the warning "This save relies on content that is no longer present".