Shadow of the Colossus-inspired Praey for the Gods enters Steam Early Access this week
If you fancy giving it Agro.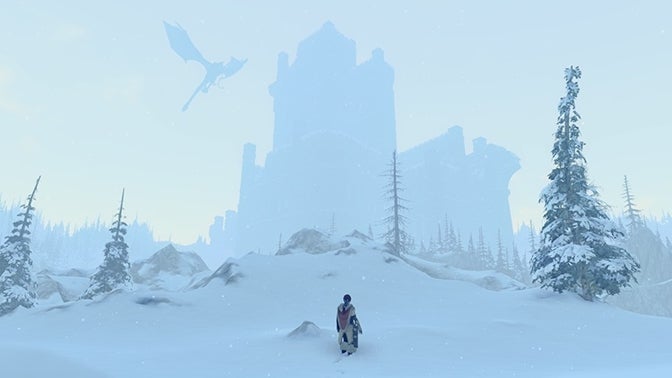 No Matter Studios has announced that its atmospheric, boss-focussed action-adventure, Praey for the Gods, will launch on Steam Early Access on January 31st.
Praey for the Gods (which, once upon a time, didn't have the conspicuous 'a' in its name - until Bethesda's lawyers got on the case) was first unveiled back in 2016. Not long after, it successfully managed to crowdfund $501,252 USD through Kickstarter, easily smashing its original $300,000 USD goal.
And really, it's not hard to see the appeal. Praey for the Gods' beautiful, snow-blanketed landscape looks wonderfully melancholy, and provide a striking backdrop to the adventures of a young hero tasked with finding a way to end the perpetual winter. And that, it transpires, involves slaying the gargantuan creatures (or gods, if you will) that inhabit the mysterious world.
If that brings to mind a certain PS2 classic, then you'd be right. Praey for the Gods is openly inspired by Fumito Ueda's masterful Shadow of the Colossus - but seeks to build upon that game's sturdy frame. It's a lot more open, for starters, enabling players to tackle creatures as they choose, and, more crucially, exploration of the harsh landscape depends on players' ability to survival. To that end, it's necessary to hunt for food, craft weapons and armour, even seek out shelter as day turns to night and the weather worsens.
Praey to the Gods has been in various stages of alpha and beta testing with Kickstarter backers for the last two years, and has now reached a point where the core is, according to No Matter, "feeling solid", and the content promised as part of crowdfunding is now complete. However, the developer says it's moving into Steam Early Access as "we love making this game and would still like to add some additional content, polish, and optimization prior to a 1.0 release."
No Matter also notes that Praey to the Gods will likely remain in early access for between 6 and 12 months, and that it has no plans to increase the game's price once Version 1.0 arrives. There's no indication of what that price might be just yet, but interested parties should keep an eye on Praey to the Gods' Steam page in the run up to its January 31st early access arrival.