Seven-minute Beyond: Two Souls gameplay video
Presented by David Cage.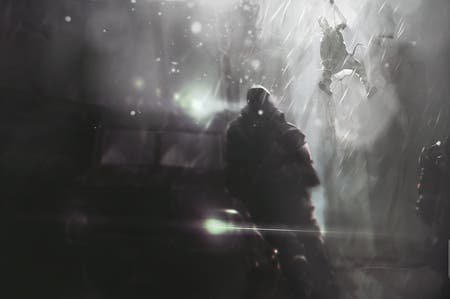 An enterprising AllGamesBeta journalist filmed a Beyond: Two Souls presentation at Gamescom. The result is seven minutes of gameplay footage (posted below) from Quantic Dream's exclusive new PlayStation 3 game, and the bonus tones of the game's French project lead, David Cage, speaking over the top.
Note, this gameplay has been seen before, by us, behind closed doors at E3. Ultimately, our Oli Welsh chose a different section of Beyond to write about at E3 - the part where heroine Jodie Holmes sits in a chair in a sheriff's office, all suspense and intrigue. Nonetheless, this newly filmed footage hasn't ever been shared with the public.
It shows Jodie Holmes escaping a lot of police. She falls off her motorbike, she's hurt, she's surrounded. But the police and special forces keep their distance - they know what she's capable of.
She's capable of calling on her special power - her ethereal link to invisible ghost entity Aidan. Aidan can't fly too far from Holmes, but he can pass through matter and interact with objects and enemies.
The demonstrator takes control of Aidan and shows us what he can do.
Our Martin Robinson tracked down David Cage this week at Gamescom. "I'm not a frustrated movie director," Cage announced, before revealing that Beyond took 12 months to shoot and has a script of 2000 pages.