Sega unveils Total War Battles: Shogun
Real-time strategy for iOS and Android.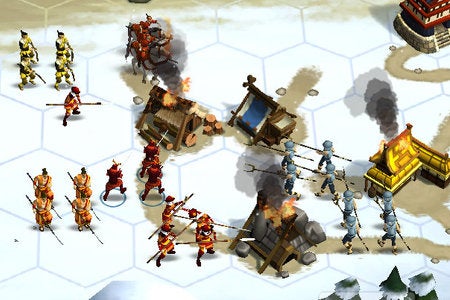 Sega has unveiled Total War Battles: Shogun, a mobile spin-off of the PC real-time strategy series due for release on 19th April.
Shogun was designed by developer Creative Assembly's digital team from the ground up to make use of touch screen devices such as iPad.
It features a fully-fledged campaign mode and two-player multiplayer on the same tablet device.
The Total War gameplay CA is known for has been stripped down somewhat, but Battles retains the real-time nature of its big brother, and even includes unit animations lifted from the PC Shogun game.
The player starts on the left of the "lane", the opponent on the right. You must build structures and units on hexagonal tiles to defend and attack, using finger drags on the touch screen for placement and movement.
There's resource gathering, experience gain and troop upgrades to sink your teeth into. CA said the campaign features around 10 hours of gameplay set in the world of Total War: Shogun 2.
In multiplayer, player one holds one side of the tablet, player two holds the other. Both drag and drop units onto the battlefield until one general is defeated.
The iOS app is designed to scale for iPhone, iPod touch and iPad. CA will update the game with more content following its release next month.
First screenshots are below.