Sam & Max's VR adventure This Time It's Virtual arrives on Oculus Quest today
PCVR and PSVR versions due at a later date.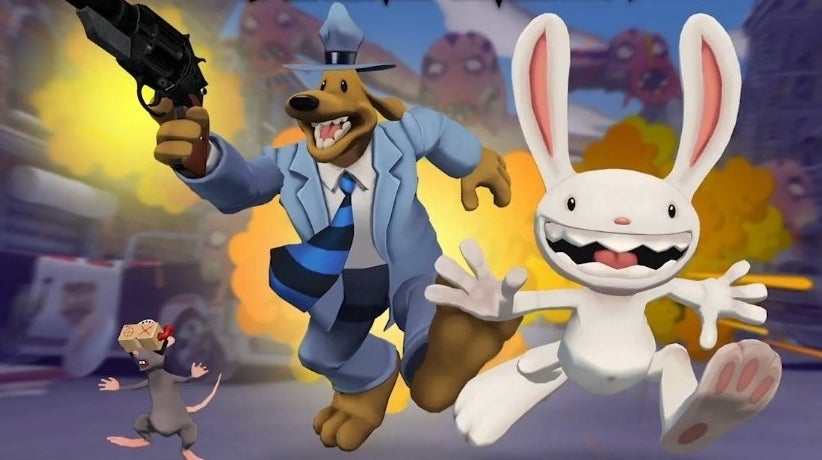 Sam & Max: This Time It's Virtual, the wise-cracking anthropomorphic crime-fighting duo's (presumably very silly) plunge into the world of VR, is - after a short delay from its originally announced June launch window - out today on Oculus Quest.
This Time It's Virtual (Sam & Max's first entirely new video game outing since Telltale Games' The Devil's Playhouse in 2010) is the work of developer HappyGiant, which promisingly includes Sam & Max creator Steve Purcell and a number of ex-LucasArts alumni who all worked on the studio's seminal 1993 point-and-click adventure Sam & Max: Hit the Road - writer/designer Mike Stemmle, creative director Mike Levine, and concept artist Peter Chan.
Additionally, David Nowlin and Dave Boat, who've voiced Sam and Max previously in a number of Telltale titles, are reprising their roles as the dubious dog and bunny duo.
The result of HappyGiant's labours sees the Freelance Police embarking on an outlandish VR adventure - said to combine puzzles, escape room challenges, skill-based mini-games and classic point-and-click-style action - through the abandoned theme park of Cap'n Aquabear, with players doing what they can to assist.
"Even multimedia evil-slappers like Sam & Max could use a hand," explains HappyGiant, "and this time they're using the incomprehensible magic of virtual reality to invite the player into their off-kilter world for a furious day of monster-slaying, obstacle courses, responsibly discharged firearms, and, of course, saving the entire freaking world."
Sam & Max: This Time It's Virtual is available on the Oculus Quest Store today, 8th July, from 6pm in the UK/1pm EST, and will cost $29.99 USD (around £22). Versions for SteamVR and Viveport Infinity are expected to launch later this year, and a PSVR release is set for early 2022.