Romelu Lukaku sure doesn't like his FIFA 21 rating
"I know what I do."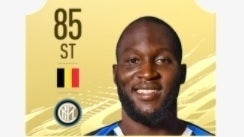 There are winners and losers each year when EA Sports announces the player ratings for FIFA. As player form ebbs and flows (and superstars edge their way onto the cover of the game), ratings adjust accordingly. You can't please everyone. And, it seems, you can't please Romelu Lukaku.
The former Manchester United striker has a conspiracy theory about the player ratings, claiming EA "mess" with them in order to get players complaining about the game "and give them more publicity".
Well, Lukaku's on to you, EA. He "ain't with this sh*t", he said. "I know what I do."
Lukaku, clearly, is upset with his player rating in FIFA 21, so let's have a look at what's what. Lukaku is ranked the 65th best player in the game, with an overall rating of 85. This is the same overall rating as the current Inter goalscorer's card in FIFA 20, and therein lies the problem.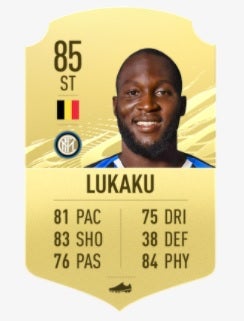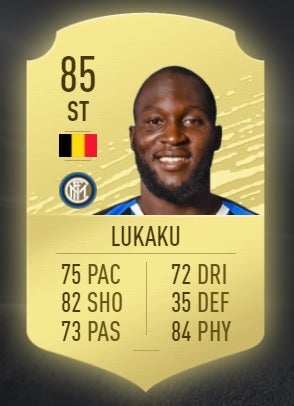 Lukaku clearly feels his overall rating should have increased, and so he should. The 27-year-old scored 34 goals in his debut season for Inter. The last Inter player to score as many goals in his first season for the club was Brazilian forward Ronaldo in the 1997/98 season.
What's interesting here is that while Lukaku's overall rating has remained the same compared to FIFA 20, his stats have increased. Lukaku's pace has shot up, his shooting rating is up by one, his passing is up by three, his dribbling is up by three, his defence is up by three and his physicality remains the same. That's a pretty decent year-on-year improvement.
Lukaku isn't the only footballer who's had a bit of a moan on social media about their player rating in FIFA 21. Manchester City defender Aymeric Laporte, who has an overall rating of 87, seemed disappointed to find out his pace is just 63.
Arsenal forward Pierre-Emerick Aubameyang, who continued his impressive form last season with a goal in Arsenal's opening game of the season today, somehow suffered a downgrade for FIFA 21. His overall rating is 87, down from 88. He had to laugh about it.
So how does EA decide on the player ratings? It uses a talent scout network called The Ratings Collective. Members "meticulously watch what happens on the pitch to assess, judge, and evaluate players across more than 30 attributes that define a footballer's skill level". Their assessments "come together to create the FIFA Ratings - the authoritative ranking of over 17,000 players' footballing ability".
Some Bayern Munich fans are wondering if The Ratings Collective skipped watched the German giants at all last season, because their player ratings have been hit hard in FIFA 21.
Midfield maestro Thiago Alcantara, fresh from winning the title and the Champions League last season, has suffered a head-scratcher of a downgrade. He's lost two points overall, down to 85 from 87.
Robert Lewandowski, who scored an incredible 51 goals last season, is now the third-best player in FIFA 21, but many reckon he's the best player in the world and should have come out on top over Lionel Messi and Cristiano Ronaldo.
There's more in the 'EA did Bayern dirty' category. Serge Gnabry, one of the most exciting players on the planet right now, suffered a shocking eight point downgrade in pace. Thomas Müller may have had his best season for Bayern, but his overall rating remains 86. Müller is a real problem player for EA Sports because he "isn't good at anything, really, apart from his positioning". Read our Chris Tapsell's wonderful piece, FIFA's greatest obstacles? Thomas Müller, ugly football, and you, to find out more.
Perhaps Lukaku is right, then. I mean, footballers are talking about it. Fans are talking about it. And we're talking about it.
Or maybe EA just thinks football isn't quite what it used to be.