RollerCoaster Tycoon 3 pulled from Steam, GOG
"Due to expiring licensing rights."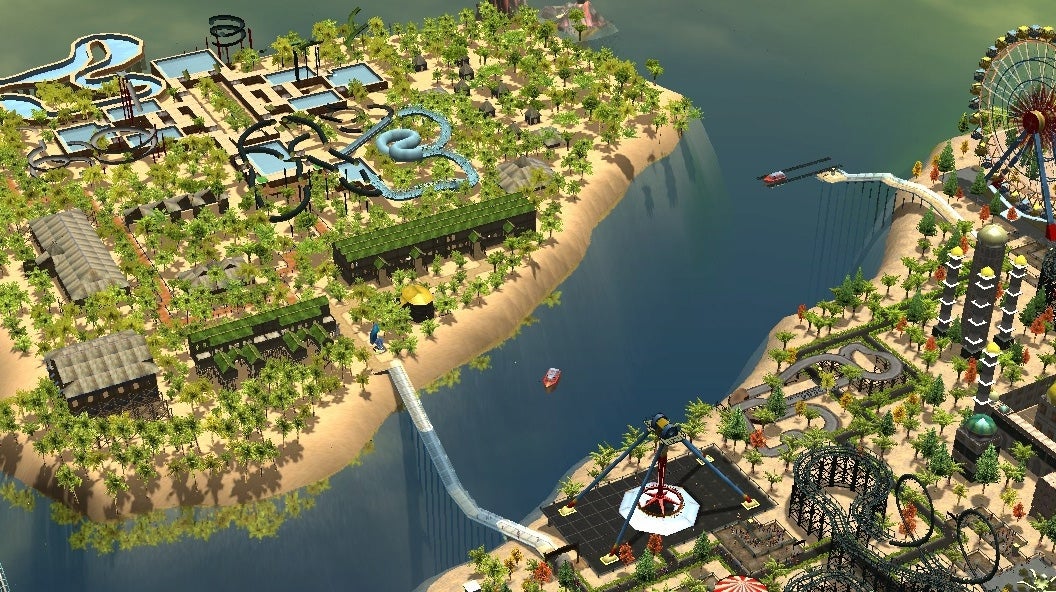 RollerCoaster Tycoon 3 has been removed from digital stores.
The popular sim was removed from the likes of GOG and Steam without explanation from publisher Atari (we've asked Atari for comment).
A spokesperson for GOG told Eurogamer it pulled the game "due to expiring licensing rights", and stressed it'll talk with "new distribution rights holders" to bring the game back as soon as possible.
Here's the GOG statement in full:
"Due to expiring licensing rights, we were asked to remove the product from our catalog for the time being. We'll be in talks with new distribution rights holders to hopefully bring the game back as soon as possible."
So, why would Atari's licensing rights to RollerCoaster Tycoon 3 expire? It may have something to do with a lawsuit between Atari and RollerCoaster Tycoon 3 developer Frontier, which we reported on back in January 2017.
Frontier claimed it was owed $2.2m in royalties by Atari over RollerCoaster Tycoon 3, which came out in 2004. Frontier said it amended its contract for RollerCoaster Tycoon 3 after Atari went bankrupt in 2013, and "another website", perhaps SteamSpy, revealed higher sales figures than previously thought. So, Frontier worked out it should have received $3.37m in royalties from Atari, but got only $1.17m. And, Frontier said, Atari delayed when it was asked for an audit of its sales report.
In a statement to Eurogamer issued in January 2017, Frontier confirmed the action.
"We can confirm Frontier is currently pursuing a complaint against Atari," chief operating officer David Walsh said.
"We have attempted to resolve this issue without legal action since April 2016. We have so far been denied our contractual right to audit by Atari, and we are unfortunately left with no other way to resolve our concerns. We are unable to offer any further comment while the matter is subject to due legal process."
Frontier declined to comment when contacted by Eurogamer this morning, but the wording of GOG's statement, which mentions "new distribution rights holders", is worth a closer look. Could Frontier have wrestled control of RollerCoaster Tycoon 3 from Atari as part of a settlement? If so, perhaps it intends to re-launch the game itself - even though it clashes somewhat with Frontier's own - and excellent - Planet Coaster.
The RollerCoaster Tycoon franchise is not owned by Atari, but by designer Chris Sawyer, who created the first two much-loved games in the series (check out our big interview with Chris Sawyer for more). Sawyer owns the RollerCoaster Tycoon IP and trademarks, and licenses to Atari the rights to create and market new RollerCoaster Tycoon games.
Back in 2007, Atari and Sawyer were embroiled in a lawsuit that involved Frontier. It was said that Frontier had developed an enhanced version of RollerCoaster Tycoon 3, which it intended to license to a third-party purchaser. Atari claimed Sawyer was in breach of contract by assisting Frontier in this, and sued Sawyer for damages. The dispute ended with an out of court settlement.
Will you support Eurogamer?
We want to make Eurogamer better, and that means better for our readers - not for algorithms. You can help! Become a supporter of Eurogamer and you can view the site completely ad-free, as well as gaining exclusive access to articles, podcasts and conversations that will bring you closer to the team, the stories, and the games we all love. Subscriptions start at £3.99 / $4.99 per month.