Rogue-like exploration adventure The Curious Expedition is getting a sequel
And the original is coming to consoles.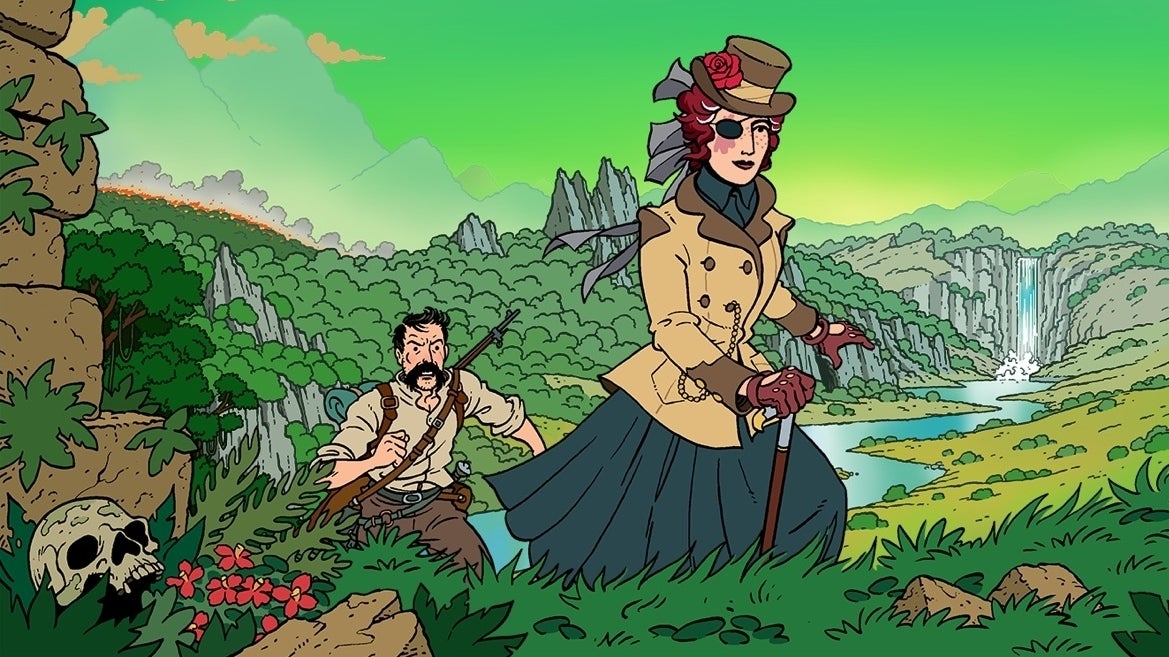 Developer Maschinen-Mensch has announced that its enormously enjoyable rogue-like exploration adventure, The Curious Expedition, is getting a sequel. But that's not all! The original is on its way to consoles this year too.
The first Curious Expedition launched in 2016 and casts players as late 19th century explorers, setting them loose across undiscovered climes in order to locate treasures then return home, where fame, fortune, and braying crowds await. What that equates to in practice is a compelling blend of vaguely strategic board gaming and choose-your-own-adventure-style narrative.
Prior to an expedition, you're able to gather supplies and form a party. Then, upon arrival at your mysterious (procedurally generated) destination, it becomes a game of carefully managing your limited food and resources as you blunder across the hex-based map, encountering the likes of ancient temples, increasingly unimpressed locals, and deadly fauna along the way - the latter of which can be battled via a kind of dice-tossing mini-game.
At certain points - on arriving at camp, for instance, or when discovering new landmarks - you're given some flavour text and asked to make some choices, which might increase your supplies, cause grievous harm, or even disturb supernatural forces and cover the map in lava. And all the while, you've hunger, your reputation, and the threat of madness to balance too.
Manage to survive and complete an expedition (acutely aware of the havoc you've caused), and you're given the equivalent of a score. Score highest against AI opponents at the end of a fixed number of excursions and you'll be declared the best explorer of all. Die at any point though, and it's back to the start. It's stressful, but engrossing, wonderfully atmospheric stuff.
Based on Maschinen-Mensch's announcement, The Curious Expedition 2 will follow a broadly similar template to its predecessor, although there's promise of multiplayer, and "deeper travel and combat mechanics that offer opportunities to express your personal play style". The sequel also ditches the original's unfussy, but hugely evocative, pixel-based art style in favour of a (slightly less charming, I reckon) "HD graphic novel" aesthetic.
The Curious Expedition 2 (to be published by Thunderful, the company formed by Swedish studios Image & Form and Zoink) will follow a similar development route to its predecessor, entering Steam Early Access some time this year.
Meanwhile, Maschinen-Mensch has confirmed that the original Curious Expedition will be launching on consoles in 2019. There's no word of a release date or even specific platforms but, given how long I've been dreaming of a portable version, I'll riot if it's not on Switch. That's just a figure of speech by the way; I won't actually riot. (UPDATE: Switch is confirmed!)
Lastly, if any of the above has piqued your interest, the original Curious Expedition is currently half price, at £5.29, on Steam. Additionally, there's a browser-based demo and a slightly odd free multiplayer variant known a The Curious Expedition: Rivals.