Curious Expedition 2 bringing 19th century expedition adventure to Steam early access next week
Where it will remain until autumn.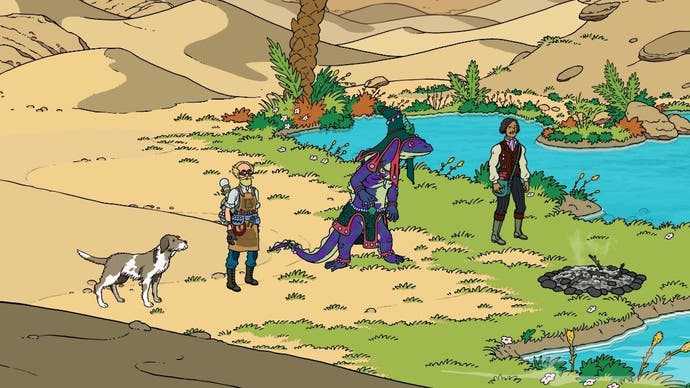 Curious Expedition 2, the follow-up to developer Maschinen-Mensch's rather splendid 19th-century-inspired rogue-like exploration adventure, will - having just completed six months of closed alpha testing - launch into Steam Early Access next Wednesday, 17th June.
The original Curious Expedition, which released on PC in 2016 (and on consoles earlier this year), casts players as late 19th century explorers, packing them off to distant climes in search of fame and glory - with the ultimate goal being to score the highest number of points against AI rivals and be crowned the finest adventurer of their time.
In gameplay terms, all that manifests as turn-based bouts of exploration across a procedurally generated (and hex-shaped) wilderness, offering a compelling blend of food and resource management, dice-based combat against deadly fauna, and pulpy choose-your-own-adventure-style narrative action - with expeditions constantly at risk from hunger, madness, or one of your own party members if their negative personality quirks finally get the better of them.
Curious Expedition 2 takes that engaging core and expands it in a range of new ways, this time tasking explorers with investigating strange islands appearing in the Atlantic and bringing back treasures to be exhibited at the 1889 World's Fair in Paris. Check out the announcement livestream above, at around the six-minute mark, for some gameplay footage.
There are new expedition types, offering a range of completion goals beyond the original's 'find the golden pyramid', there's greater, more meaningful customisation for party members - with players able to equip gear to create different builds better suited to different challenges - there are all-new combat mechanics, and even online challenges. Maschinen-Mensch also says to expect new biomes, enemies, items, and character types - all presented with an art style considerably more lavish than the first game's endearing low-fi pixel art.
The original Curious Expedition grew tremendously through early access development, and it's a formula the developer intends to emulate this time around, with Curious Expedition 2 not expected to get its Version 1.0 release until some time this Autumn.
At launch next Wednesday, 17th June, Curious Expedition 2's core features will, according to Maschinen-Mensch, be "mostly complete", meaning it'll include map travel, combat, online challenges, and a fully playable campaign - although the developer warns that there'll be some narrative placeholders initially.
Roughly two-thirds of planned content - including enemy types, items, characters, and events - are said to be implemented, and content will be revised based on player feedback. The developer notes that Curious Expedition 2's price will rise once early access is complete.