Enjoyable 19th century expedition sim Curious Expedition gets console release dates
Coming to Xbox One, PS4, and Switch soon.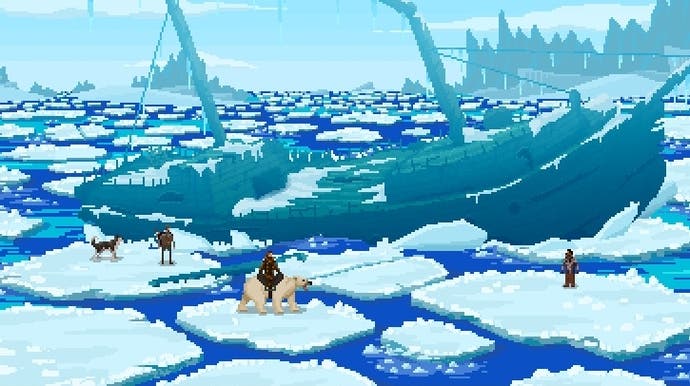 Developer Maschinen-Mensch's rather splendid 19th-century-inspired rogue-like exploration adventure, Curious Expedition, has, at long last, received release dates for consoles, and will be coming to PS4 on 31st March, Switch on 2nd April, and Xbox One a day later on 3rd April.
Curious Expedition, which launched on PC in 2016 and was originally expected on consoles last year, casts players as late 19th century explorers, on a mission to chart the undiscovered corners of the world and pilfer as many priceless artefacts as possible, all in a grasp for fame and glory.
In gameplay terms, that amounts to a compelling blend of hex-based exploration, resource management, and pulpy choose-your-own-adventure-style narrative escapades.
The ultimate goal each game is to be crowned the finest explorer of them all by scoring highest against AI opponents across a set number of rounds, with points being accrued by ransacking archeological sites for ancient treasures.
That, however, requires players to safely guide their party across a new procedurally generated wilderness each round, carefully managing limited food and resources to stave off hunger and madness, maintaining good relations with the increasingly unimpressed locals, and battling deadly fauna along the way - via the medium of dice-tossing mini-game.
At certain points - when discovering new landmarks or setting up camp, for instance - Curious Expedition's narrative moments kick in, enabling players to make choices that might increase their supplies, send delirious party members (each with their own often disadvantageous personality quirks) completely over the edge, even summon the wrath of the gods. Oh, and death means game over, making for a tense, but delightfully atmospheric adventure.
Curious Expedition will cost $14.99 USD (around £12) when it releases on Xbox One, PlayStation 4, and Switch in the next few weeks - and those that enjoy their time in the wilderness might want to keep an eye on Curious Expedition 2, which is currently in development and expected to enter early access later this year.