Rocket League going free-to-play "later this summer"
Will be exclusive to Epic Store for new PC players.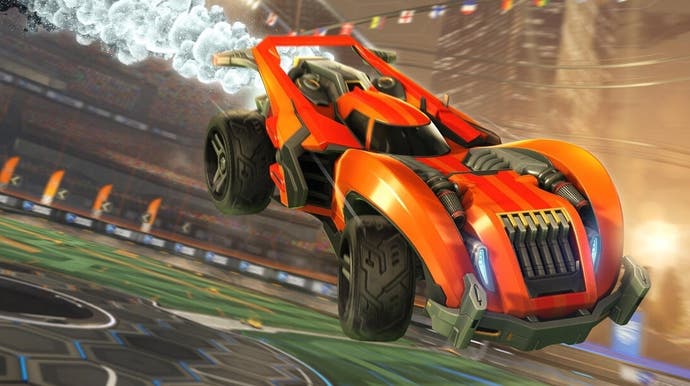 Developer Psyonix's four-wheeled footie phenomenon Rocket League will be transitioning from paid title to free-to-play game on all platforms "later this summer", and, at the same time, it will become exclusive to the Epic Games Store for all new PC players.
Since its launch back in 2015, Rocket League has, despite the myriad monetisation tactics introduced over its lifespan - from a now-defunct loot box system to its replacement online store, and a Fortnite-style battle pass - been sold as a premium title with an upfront fee.
At some point "later this summer", however, Rocket League will go entirely free-to-play - a shift that will be accompanied by a major new update introducing, among other things, changes to Tournaments and Challenge systems. Additionally, it will gain cross-platform progression for item inventories, Rocket Pass progress, and Competitive Rank, although these features will require players to create and link an Epic Games Account.
Today's announcement also clarifies what Psyonix and Epic Games, which acquired the developer early last year, have planned for Rocket League's enormously popular Steam version. As most people suspected, despite Epic's rather slippery statement at the time of the acquisition, Rocket League will launch on the Epic Games Store when it goes free-to-play, at which point new players will no longer have the option to download it through Steam.
Importantly though, Psyonix says Rocket League's Steam version will continue to receive "full support for future updates and features", meaning players on Valve's store won't be left behind.
To sweeten the news of Rocket League's shift to free-to-play for paying customers, those that already owned the game prior to today's announcement will receive the Faded Cosmos Boost. Additionally, players that take the game online prior to its free-to-play transition will be granted all existing Rocket-League-branded DLC, 200+ Common items upgraded to Legacy quality, the Golden Cosmos Boost, the Dieci-Oro Wheels, the Huntress Player Banner, and an 'Est. 20XX' banner displaying the year a player first started their Rocket League career.
Psyonix says more information will be revealed "in the coming weeks".