Robin Williams tribute spotted live in Warlords of Draenor beta
"Infinite cosmic power!"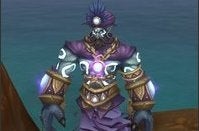 A couple of weeks back we reported on a series of Robin Williams references datamined in the upcoming World of Warcraft expansion Warlords of Draenor. Now, some of these tributes have been spotted live in the add-on's beta.

As discovered by the folks at Wowhead, there's a genie named Robin on an island off of Talador's coast. You summon him by rubbing an "ever-burning lamp," at which point he'll appear and exclaim "Infinite cosmic power!" After that, he'll shrink, wave goodbye and murmur "itty bitty living space."
Near the genie is a large broken egg, referencing Mork, and Wowhead datamined an asset of a man in overalls believed to represent television's favourite alien (sorry, ALF). Other datamined assets include a third Robin dressed like Mrs. Doubtfire and some stuffed animals and tanks referencing the movie Toys.