Rise of the Tomb Raider, Erica are July's PlayStation Plus games
And NBA 2K20 too!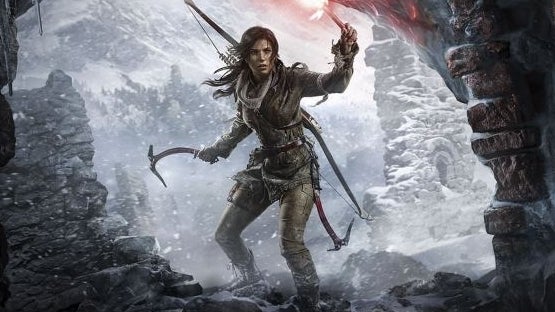 PlayStation Plus is ten years old today! And what's occurring to mark this auspicious occasion over at Sony? Why, it's revealed the next batch of games to be included as part of the service this July, and here they are now: Rise of the Tomb Raider, NBA 2K20, and FMV adventure Erica.
Rise of the Tomb Raider: 20 Year Celebration is, of course, the second entry (plus DLC) in developer Crystal Dynamics' three-game re-imagining of the classic Tomb Raider franchise, and does, by and large, offer more of the same as its predecessor. It's a tense, tightly constructed, if rather unremittingly grim, adventure that, this time, sees Lara maiming and murdering (and occasionally puzzling) her way across Siberia in search of the Lost City of Kitezh.
"Rise of the Tomb Raider is a well-made game," wrote Oli Welsh back in 2015, "It's a handsome and solidly entertaining, if seldom inspired, way to while away a dozen hours. It has a famous name and an avatar of real dynamic power at its centre. It has tombs to raid. That ought to be enough. It shouldn't have to reach. But reach it does - for an emotional hook it doesn't have, and for trendy gimmicks it doesn't need."
Next up is Erica, a brisk psychological thriller told through well-acted and effectively produced FMV. It's a murder mystery, focussing on the titular Erica, and gives players a degree of influence over the story through the likes of dialogue options and other subtle interactions.
Eurogamer's Robert Purchase liked this one a lot when it released last year. "Erica is exactly the right length, pitched superbly in terms of what it demands of your hands (ie. not much), and natural to watch in a way even the most cinematic games still can't match," he wrote in his Recommended review, "It's part of a new dawn for FMV games. Enjoy it."
July's final PlayStation Plus game, then, is NBA 2K20, which Eurogamer didn't review - so while I can't tell you if 2K's most recent basketball effort is any good, I can tell you it sold quite well.
All these games will be available to PlayStation Plus subscribers between 7th July and 3rd August - and as a small additional birthday treat, a special 10th anniversary PS4 theme will be made available on the PlayStation Store later this week for a limited time.