Retro City Rampage DX is out now on iOS
Contains the entire game for £3.99.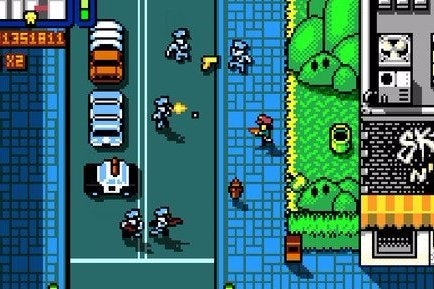 Retro City Rampage DX, the enhanced port of Brian Provinciano's throwback to arcade games of yore, is out today on iOS devices.
Priced at £3.99 / $4.99, the mobile version of Retro City Rampage includes the entire game, right down to all its mini-games and the anaglyphic 3D racer modes.
It's not a slight game either, as it includes over 60 story missions, more than 40 arcade challenges, and upwards of 25 weapons, 50 vehicles, 200 character customisations and 2.5 hours of chiptune music. There's even official crossover mini-games with Minecraft, Super Meat Boy, Bit.Trip and Epic Meal Time.
"The entire game's been carefully tuned and heavily tested to play well on touch devices," Provinciano said of this iOS edition. "From the controls, to enemy targeting and melee combat, to the missions themselves. What's more, ever the perfectionist, version 1.01's already wrapped up and on its way, which adds new swimming controls."
Retro City Rampage DX also includes gamepad support if you don't fancy the touch controls.
Our Chris Donlan praised Retro City Rampage upon its initial launch in 2012. In that time the game has appeared PC, Mac, Linux, PS4, PS3, Vita, Wii, Xbox 360, and 3DS as the revamped Retro City Rampage DX.