Retro City Rampage DX is now on Switch
Definitive edition features improved visuals and a wider camera.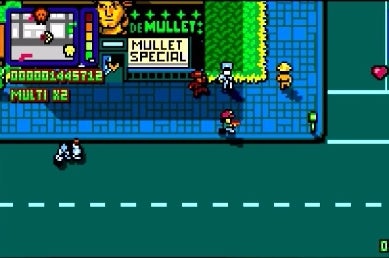 Retro City Rampage DX, the definitive version of VBlank's love letter to both 8-bit gaming and Grand Theft Auto, is now on Switch.
This DX edition goes for £12.99 / €14.99 / $14.99 and contains all the goods the developer added to the game over the years, like an additional 60-plus story missions.
Retro City Rampage first launched in 2012 on PC, PS3 and Vita, but has since gone onto such platforms as Xbox 360, Wii, 3DS, PS4, Mac, Linux, iOS and Android.
This Switch release sounds like the ideal way to play it though, as it keeps all the nifty "DX" features of the 3DS version, but presents them on a bigger, better screen.
When asked about the improvements between the Switch and 3DS releases, developer VBlank said on Twitter that the "biggest differences are the wider camera and visual options, [and] added buttons/sticks."
What this means is that the Switch edition has support for dual analogue sticks, something featured on the New 3DS version, but not on earlier versions of Nintendo's handheld.
Our Chris Donlan recommended the original release of Retro City Rampage and it's only gotten better in the time since launch. "If you love old games - and old movies and all that other old jazz - there's a good chance you're going to love this, too," Donlan wrote in his Retro City Rampage review.
VBlank is currently hard at work developing Retro City Rampage's spiritual successor, Shakedown Hawaii, which will likewise come to Switch, along with 3DS, PS4, Vita, and PC. It's shaping up to be a vastly more ambitious adventure.