Ratchet & Clank: Into the Nexus announced
Out on PS3 this Christmas.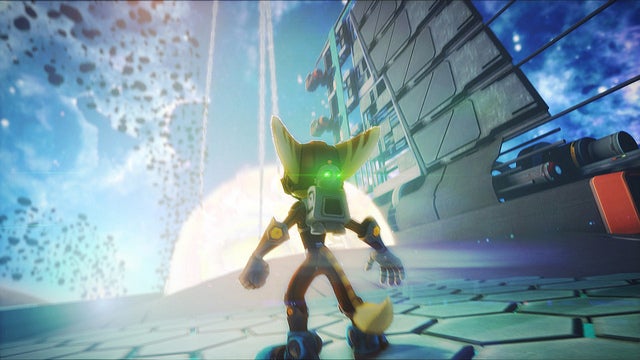 Insomniac Games has announced Ratchet & Clank: Into the Nexus for PlayStation 3.
Into the Nexus revisits Ratchet's personal story arc, Insomniac's community manager James Stevenson wrote on the PlayStation Blog. It's a single-player epilogue to the Future games, with Tools of Destruction and A Crack in Time creative director Brian Allgeier at the helm.
Stevenson described the game as "a story-driven platform adventure, with the humour and heart that make the franchise so beloved". Later, he called it a "classic" Ratchet game. Its debut trailer is below.
As you'd expect there are a number of new weapons and gadgets to use. Gravity is one of the themes of the game, and there are zero-g areas where you'll use gravity-based gadgets to solve new puzzles.
Into the Nexus will be released this Christmas as a Blu-ray disc and as a download from the PlayStation Store. In the US it costs $29.99. Sony Computer Entertainment Europe is yet to announce a UK price.
Stevenson said Into the Nexus is Insomniac's biggest downloadable Ratchet & Clank yet, dwarfing the size of both Quest for Booty and Full Frontal Assault.
In the comments of the PlayStation Blog, Stevenson was asked why Into the Nexus was a PS3 game and not a PlayStation 4 game.
"We have a ton of Ratchet fans on PS3 who loved the future saga," he replied, "it seemed right to bring the Epilogue to them on that platform!"
In terms of game length, Stevenson said Into the Nexus isn't as long as A Crack in Time, but "it's much larger" than Quest for Booty or Full Frontal Assault.