Promising underground station sim Overcrowd is out now in Steam early access
Test tube.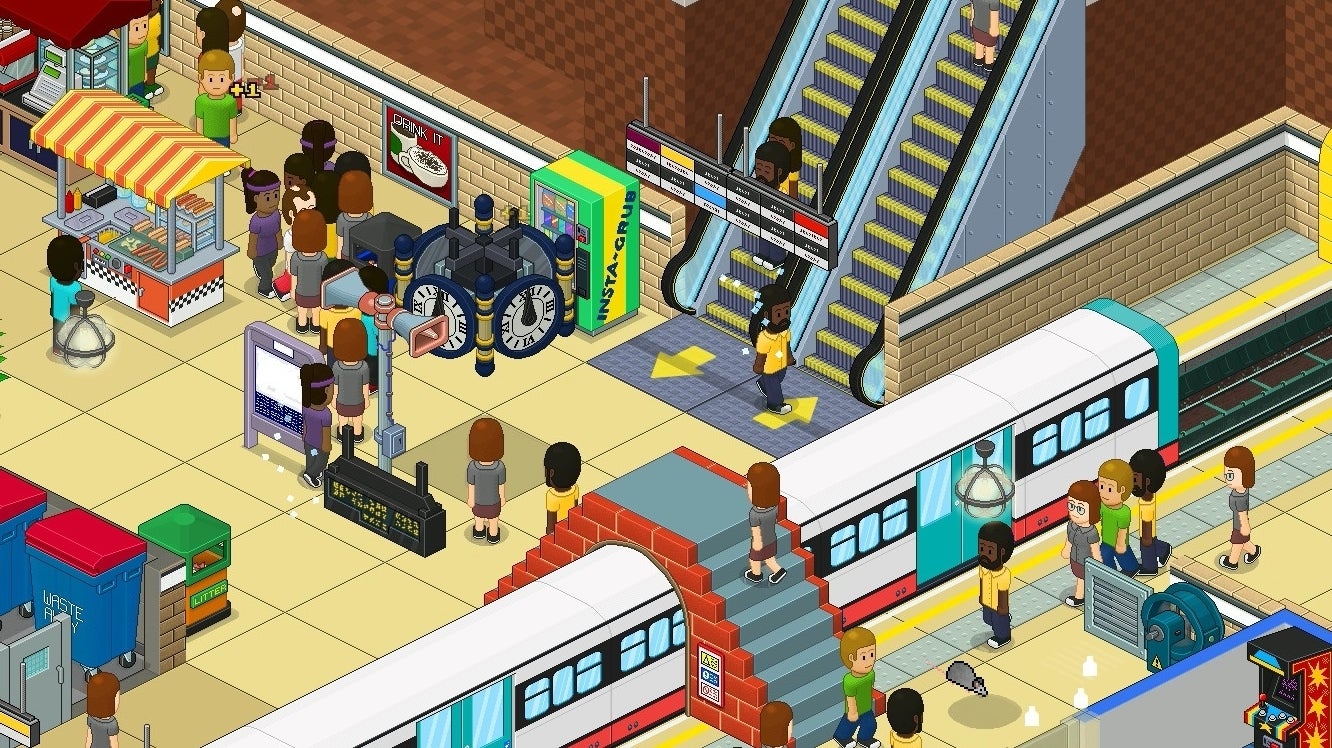 Developer SquarePlay Games' promising underground station management sim, Overcrowd - a game I've had my eye on for a while - is now available in Steam early access.
Overcrowd: A Commute 'Em Up, as it's more formally known, tasks players with constructing and successfully running an underground transportation network, one station at a time, in the almost-but-not-quite-London city of Lubdon Town. In early access, three modes are available: there's a free-play sandbox mode, a challenge mode, and a campaign, unfolding across five procedurally generated levels.
In the campaign, the goal is to work through all five of these increasingly difficult maps, with procedural generation affecting things like the position of immovable concourse tiles, the location of tracks (which are fixed to connect to the broader network), and environmental elements that you're forced to build around. By cultivating a successful station, you're able to progress to the next, and can even hop between existing maps to improve network efficiency.
And as for how success is defined, that's largely a matter of keeping your station running optimally and your customers happy. You'll need to ensure trains are on time and can accommodate all passengers, for instance; you'll need a station layout that enables efficient crowd flow, and you'll need clean, modern, and well-staffed amenities.
I've played around an hour of Overcrowd so far, so can only offer a very limited overview of the game - but, as a big management sim fan, I've certainly enjoyed what I've played.
The unlock tree seems extensive, randomised environmental restrictions add an extra layer to the experience, forcing ingenuity in your multi-floor station layouts, and there looks to be enough control over individual elements - from deciding which tools your staff prioritise on their rounds to which staircases lead up and which go down - to ensure there are always interesting strategic and creative choices to be made. Oh, and it's wonderfully presented too.
It sounds like there's plenty more to come as well, with SquarePlay stating that it expects Overcrowd to remain in early access for most of this year, and that it plans to add "features that will enable the player the manipulate their station environment with greater precision as well as introduce more commuter types, more objects and more underlying systems."
Overcrowd: A Commute 'Em Up is available now on Steam for £12.99/$16.99USD. That price, says SquarePlay, will likely increase once early access is over.