Activision says Prestige is coming to Call of Duty: Warzone, Modern Warfare and Black Ops Cold War
Flank woods.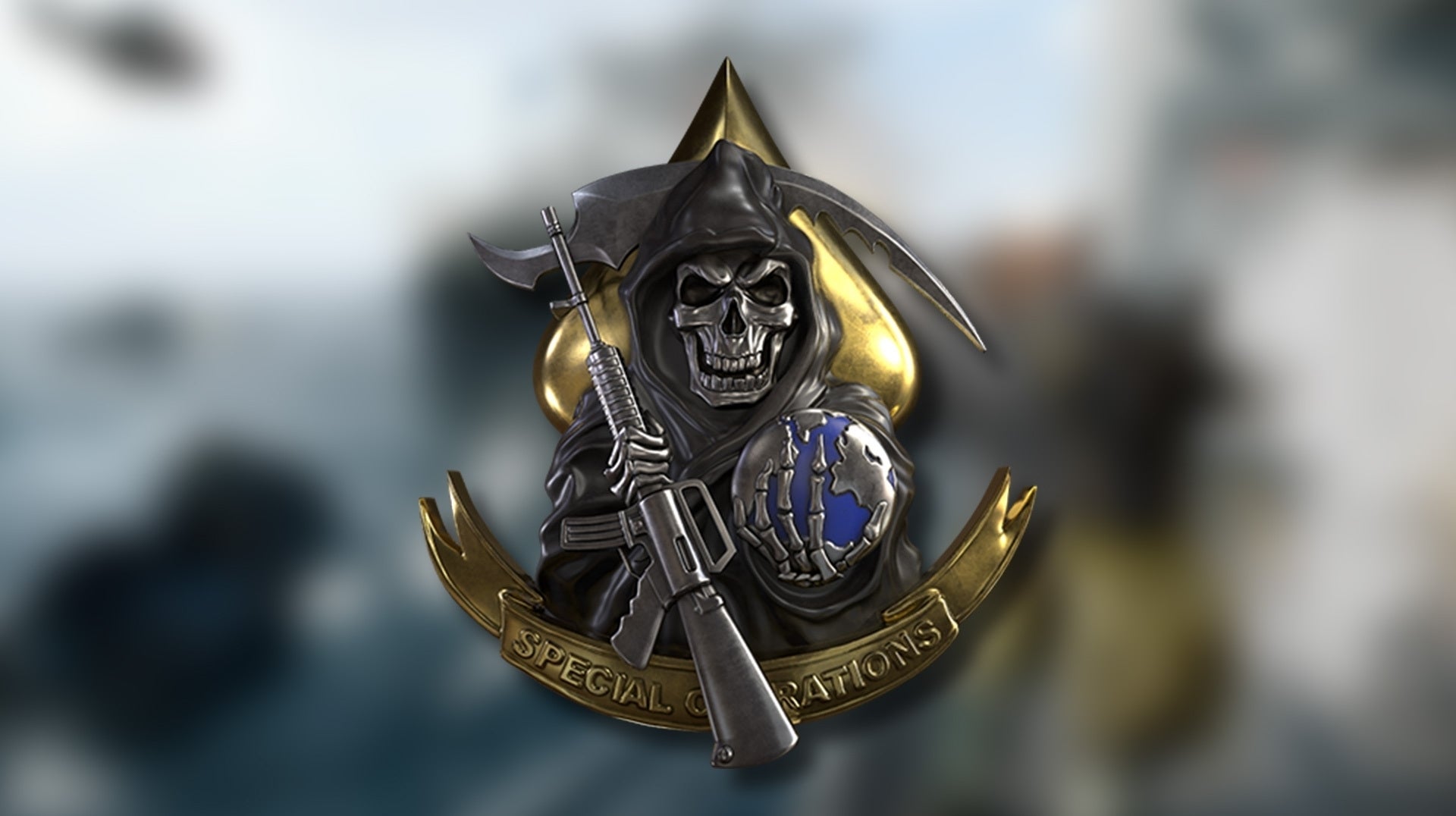 Call of Duty: Warzone, Modern Warfare and Black Ops Cold War are all getting a cross-title Prestige system of sorts.
Season One of Black Ops Cold War, which starts in December, brings universal and synchronised player progression that works between Black Ops Cold War, Modern Warfare, and Warzone.
The Black Ops Cold War progression is similar to Modern Warfare's and incorporates a Prestige system, Activision said.
Prestige, a long-standing and popular method of keeping Call of Duty players interested for months on end by letting them restart progression and re-lock functional items over and over, was ditched for Infinity Ward's Modern Warfare in favour of an Officer Ranks system. This preserved your Enlisted Ranks of 1-55 so they were never reset, and functional items were never re-locked. Only your Officer Rank was reset, at the end of a season.
After Black Ops Cold War launches, your Enlisted Ranks will become known as Military Levels. As with Enlisted Ranks, Military Levels take you from level one to 55, and it unlocks functional gameplay items. But now, it's synced between all three games (beginning at launch for Black Ops Cold War players, and then in Season One for Modern Warfare and Warzone players). The idea is you can level up and get XP no matter which game you play. Progress is obtained in the usual manner (playing multiplayer, completing challenges and Warzone matches, etc). Black Ops Cold War Zombies also shares this progression.
When you complete the Military Levels, you get an updated and improved Seasonal Leveling that begins when Black Ops Cold War comes out with what's called the Pre-Season. This becomes synchronised with all three Call of Duty games (Modern Warfare, Warzone and Black Ops Cold War) at the beginning of season one in December. This means you can level up in all three games no matter which you play.
Your initial Military level will be reset within Modern Warfare and Warzone at the start of Black Ops Cold War season one in order to sync player progression across all three games. This reset is synced to your current progression level in Black Ops Cold War when season one kicks off. Only your XP is reset - everything you've previously unlocked, such as weapons, perks and killstreaks in Modern Warfare, for example, remains available.
Here's where the Seasonal Prestige leveling kicks in. Your previous seasonal Officer Progression is now known as Seasonal Levels, which incorporates a Seasonal Prestige leveling system. This is fully synced between all three games.
Activision says Officer Progression during seasons has been updated with "aspects" of the traditional Prestige system, which lets players unlock and use rewards, including legacy player identity items from the world of Black Ops. Leveling in Black Ops Cold War, Warzone or Modern Warfare all count toward your Seasonal Leveling and Prestige Level. That's really all we know for now about this new Prestige system. Treyarch said more information is due tomorrow.
But, Activision said, the "preferred" way to Prestige is by playing Black Ops Cold War, thanks to challenges focused on Black Ops Cold War gameplay, XP events and other "advantages" planned throughout the Seasons. Clearly, Activision is trying to push COD fans towards Black Ops Cold War here. The publisher knows Prestige is a big deal for Call of Duty fans.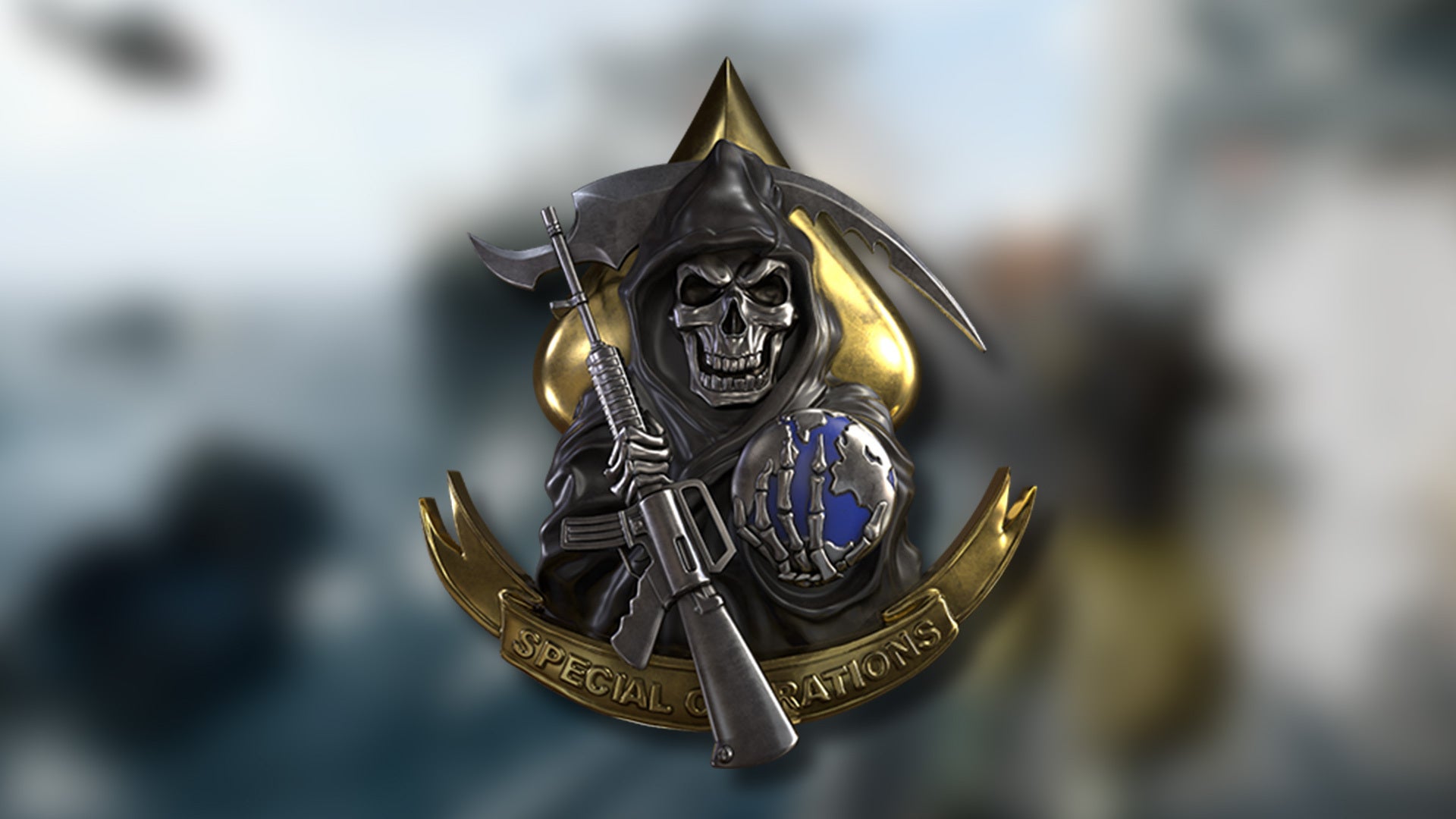 Meanwhile, Activision talked about weapon progression. At the launch of Black Ops Cold War, every weapon from Modern Warfare and new weapons from Black Ops Cold War will be accessible in Warzone, including Blueprints and camo variants. You can mix and level up weapons both in Warzone and the game the weapon originated from.
Activision said the current plan is for Warzone to include all primary and secondary weapons available throughout the lifespan of Black Ops Cold War, including launch and season weapons, as well as every single weapon blueprint.
Modern Warfare and Black Ops Cold War weapons will be shared in Warzone. Activision stressed it has no plans to remove any weapons from Warzone. But you can't use your Modern Warfare weapons in Black Ops Cold War, and vice versa - as you'd expect.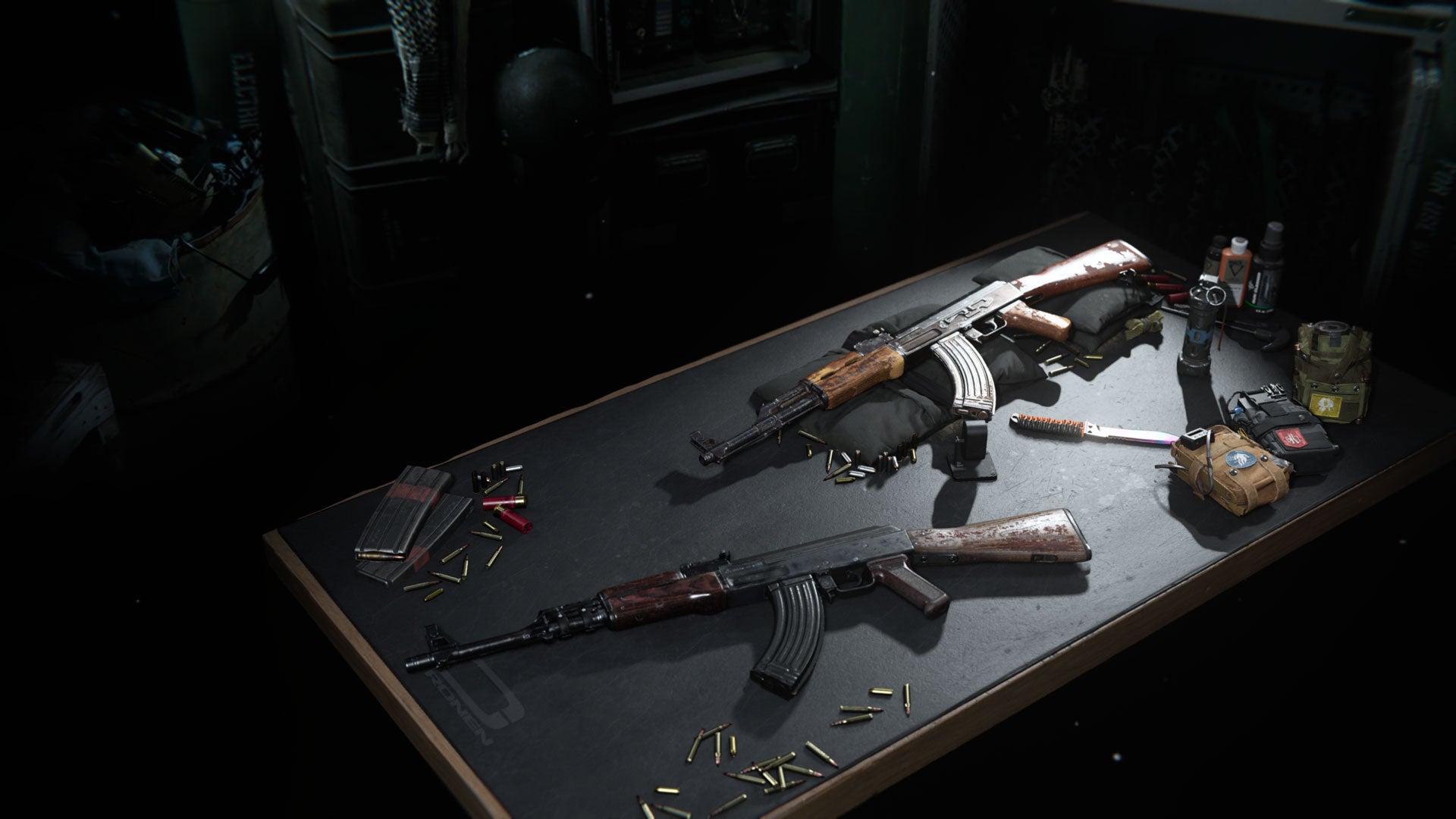 So, Activision is slapping visible Black Ops and Modern Warfare logos on every weapon's menu tile so you'll know where it originated. (There will be two AK-47s, for example - one labelled Cold War, the other Modern Warfare.). When you earn or unlock a new weapon in Black Ops Cold War, it immediately appears for use in Warzone.
As already announced, you get to pick from a Modern Warfare loadout or a Black Ops Cold War loadout when playing Warzone. All XP and leveling then counts both in Warzone and the game from which the weapon originated.
Essentially, you work to unlock weapons and attachments for any weapon you like in either game by playing that game or Warzone.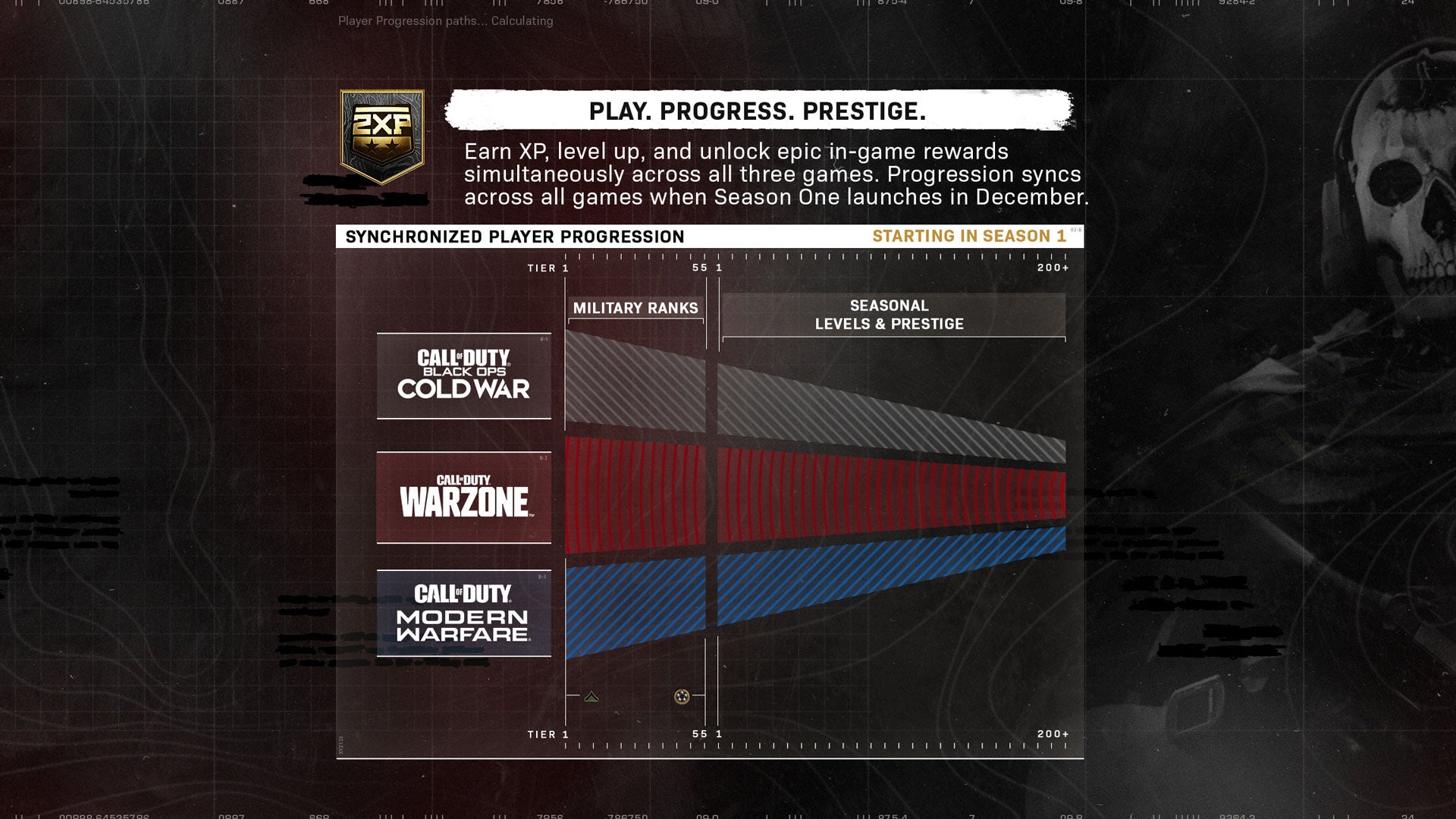 What about base weapons that exist in Black Ops Cold War and Modern Warfare? Expect to be able to access available base weapons separately, with each game's specific logo indicating the series it is available in, as well as the weapon's level progression, Activision said.
At the start of Season One, Modern Warfare's perks, lethal equipment, tactical equipment, field upgrades, and specific killstreaks will remain in Warzone. "Current plans" are that any Modern Warfare weapons you've progressed, along with any unlocks (like the Damascus or Obsidian camos) are retained, Activision said.
Now for operators. At launch, you can take any operator you've unlocked from Modern Warfare or Black Ops Cold War into Warzone, including any skins you've got.
So, when Black Ops Cold War comes out, the Warzone operator select screen will be expanded. Black Ops Cold War and Modern Warfare operators you obtain are intended to be available to play both in Warzone and the title from which they originate.
There is only one exception: Frank Woods, who is accessible in all three games, though the only skin available in Modern Warfare is the one available if you buy a digital pre-order of Black Ops Cold War. Clever, aren't they?
The battle pass system continues, as you'd expect, with season one set for plenty of content for Black Ops Cold War and Warzone. But it doesn't sound like it will contain any new Modern Warfare content. You progress through the battle pass by playing any of the three games though, and content you unlock is shown in-game, no matter which game you're playing.
All in all, it sounds like Activision's done a decent job getting Black Ops Cold War, Modern Warfare and Warzone linked up, although it feels like Activision is deprioritising Modern Warfare, given the new battle pass won't include any content for it. Activision warned content may be temporarily or permanently removed from Warzone in the future, based on game or thematic changes, technical or legal requirements, and/or storage limitations. "While we continue to optimise for platforms and disk space, we plan to retain all Modern Warfare content for continued use in Warzone at least through the initial Black Ops Cold War seasons of content," Activision said.
Warzone is the first time ever we'll see Modern Warfare and Black Ops Cold War weapons in the same game, which is cool, but there are still questions about how exactly weapons from Black Ops Cold War will feel to use in Warzone, given Treyarch and Raven's shooter is quite different than Infinity Ward's. We do know Warzone is sticking with its existing engine for this Black Ops Cold War integration, so Black Ops Cold War content will need to be ported across to Warzone to make it work within it.