Pony Island dev's genre-hopping murder mystery The Hex is out now
Welcome to the Six Pint Inn.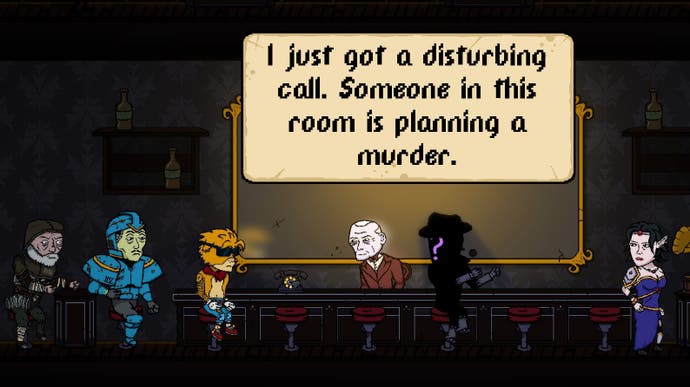 There's a treat in store for fans of Daniel Mullins' dizzyingly inventive 2016 cult hit, Pony Island; the developer's latest offering, genre-hopping murder mystery The Hex, is now available on Steam.
The Hex's strange events unfold in the Six Pint Inn, a gloomy tavern "in a forgotten corner of the video game universe". Six guests occupy the tavern - the Space Marine, Sorceress, Platformer, Fighter, Apocalypse Survivor, and First Person Perspective - and all is initially well. Until, that is, the proprietor receives a telephone call informing him that a murder is about to occur.
The inn's occupants, explains Mullins, "are video game protagonists trying to escape their past... But The Six Pint Inn has a way of bringing back old memories." This equates to playable flashbacks inspired by different gaming genres, and "by exploring these memories you may discover the identity of the murderer... or you may learn much darker secrets."
In Mullins' delightfully confounding Pony Island, what starts out as a cheerful play-through of a long-forgotten arcade game very quickly...isn't. And early word on The Hex suggests that Mullins' latest adventure is no less funny, surprising, and devilishly clever as its forebear. Alas, it's one of those experiences that you're better off not knowing too much about before diving headfirst into its breathless invention, so you'll need to be willing to take a bit of a chance.
If any of that fills you with unshakeable intrigue, The Hex - which promises an initial play-through of around six hours - is available now on Steam, and costs £7.19/$9.99 USD.